3.3 MILLION PEOPLE VISITED LAKE MEAD NRA IN PAST 6 MONTHS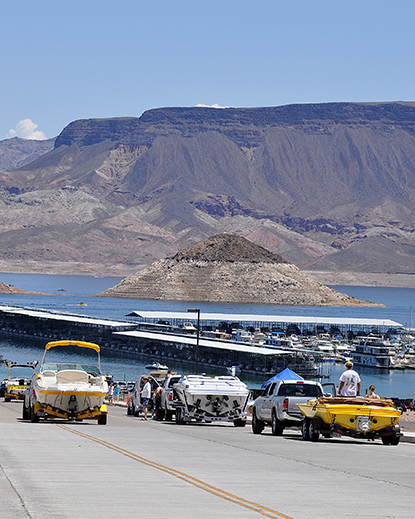 News Release Date:
July 19, 2013 National Park Service
U.S. Department of the Interior
LAKE MEAD NATIONAL RECREATION AREA News Release
For Immediate Release: July 19, 2013
Release No.: 2013-53
Contact: Christie Vanover,
e-mail us
, 702-283-2344
3.3 MILLION PEOPLE VISITED LAKE MEAD NRA IN PAST 6 MONTHS
BOULDER CITY, Nev. – Lake Mead National Recreation Area, the fifth most visited unit of the National Park Service, has seen a 6.09 percent increase in visitation in 2013.
Lake Mead NRA welcomed 873,323 visitors in June and a total of 3,376,492 for the first six months of 2013. In 2012, 780,351 people visited the park in June and 3,182,801 visited from January through June.
"The increase in visitation is great news for the recreation area," said Christie Vanover, Lake Mead NRA public affairs officer. "Visitation was on the decline for the past couple of years, due in large part to the economy and lower lake levels.
"Boat sales are reportedly up and the public appreciates that despite the visual bathtub ring that circles Lake Mead, it is still the largest reservoir in the United States, making it the premier inland water recreation area in the west," she added.
The most popular area of the park in 2013 has been Katherine Landing on Lake Mohave near Laughlin. Visitation has reached almost 600,000, increasing 105 percent. On Lake Mead, Hemenway Harbor has been the most popular destination with more than 325,000 visitors, up slightly from 2012.
Boulder Harbor, Callville Bay and Willow Beach are other popular areas, each seeing more than 100,000 visitors so far this year.
Approximately 240,000 visitors spent their Fourth of July holiday weekend at the park, and around 225,000 enjoyed the park over Memorial Day weekend. In May and June alone, the park has seen a visitation increase of 11.47 percent compared to 2012.
"We hope this trend continues," said Vanover. "We expect to see close to 1 million visitors in both July and August. After Labor Day, visitation will slow down, traditionally averaging close to 500,000 per month."
For historic data on visitation at Lake Mead National Recreation Area, visit https://irma.nps.gov/Stats/SSRSReports/Park%20Specific%20Reports/Monthly%20Public%20Use?Park=LAKE.
For hi-res photos of Lake Mead NRA, visit https://www.flickr.com/photos/lakemeadnra/sets

-NPS-

Last updated: February 28, 2015