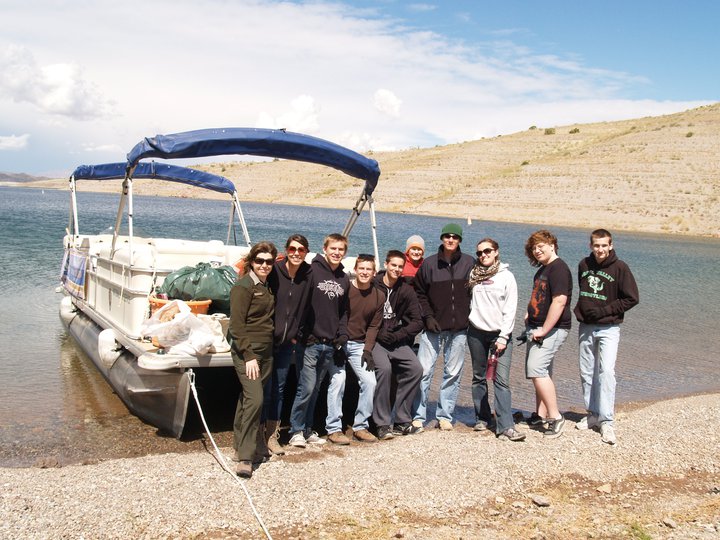 News Release Date:
October 5, 2011
LAS VEGAS - Park rangers are looking for fun and energetic people to help with cleaning up Lake Mead National Recreation Area. To tackle the park's litter problem, rangers are teaming up with visitors and concessionaires to clean beaches and hold Eco-Dives. Park rangers are also providing a boat and boat driver to the most adventurous volunteers who participate in the park's Operation Zero program, which takes volunteers to remote areas of Lake Mead to cleanup beaches.
"We have hundreds of miles of shoreline and millions of visitors a year. Keeping up with litter with our small staff is nearly impossible," said Superintendent Bill Dickinson. "Picking up broken glass prevents injuries to beachgoers and removing plastic, especially small pieces, keeps trash from being eaten by wildlife."
In the past 12 months, volunteers have removed 30 tons of litter from the park.
No experience is needed. Groups and families are welcome.
OPERATION ZERO
Dates for Operation Zero, or OZ program as it's also known, are available this month and next. The program is best suited for groups of 6 to 10 people. OZ groups meet park rangers at the boat dock in the morning to be taken out to a cove or beach to remove trash. Volunteers should bring their own sack lunch to enjoy in the peaceful outdoors after a couple hours of picking up litter.
Available dates:
- Oct. 7, 8, 12, 14, 19, 21, 26 and 28
- Nov. 2, 4, 5, 9, 12, 16 and 18
Contact Chris Pietrafeso for more information at (702) 293-8711 or e-mail us
MARINA BEACH CLEANUP AND ECO-DIVES
National Park Service concessionaires Forever Resorts and Las Vegas Boat Harbor are sponsoring beach cleanups and Eco-Dives to remove litter from above and below the water. These events will be held at Cottonwood Cove on Oct. 8, Hemenway Harbor on Oct. 29, and Callville Bay on Nov. 5. At the first two events, certified divers will have the opportunity to dive in marina areas normally closed to diving to remove litter. Concessionaires are providing a free lunch to all volunteers. Registration is required.
Available dates:
- Cottonwood Cove, Oct 8 - Register with Chris Pietrafeso at (702) 293-8711 or e-mail us
- Las Vegas Boat Harbor, Oct. 29 and Callville Bay, Nov. 5 - Register with Elizabeth Gann at (702) 293-8717 or e-mail us (Note: Callville Bay will only be a beach cleanup, no Eco-Dive)
All cleanups and future volunteer events can be found online at http://www.getoutdoorsnevada.org
- NPS -