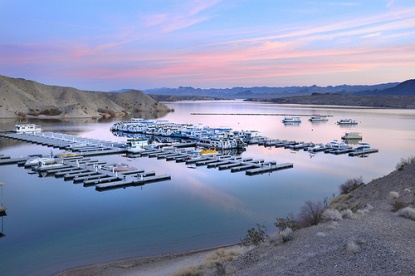 News Release Date:
September 8, 2011
Contact: Andrew S. Muñoz, (702) 293-8691
Links: Stock Photos | Survey Report (PDF)
LAS VEGAS - The National Park Service has released the results of the 2011 Lake Mead National Recreation Area visitor survey. Results of the survey report that 95 percent of park visitors are satisfied overall with park facilities, services and recreational opportunities.
"We are pleased that our visitors find value in their national park experience at Lake Mead National Recreation Area," said Superintendent Bill Dickinson. "We work hard to provide a first rate experience. This recognizes the hard work of both National Park Service and concessions employees who make it happen everyday."
The survey is designed to measure visitor satisfaction and visitor understanding and appreciation.
Write-in comments were consistently positive. Visitors would like to see improvements in the number of on-the-water law enforcement patrols and additional amenities such as more floating restrooms.
A few visitors expressed concern about the cost of entrance fees with this year's fee increase, however 77 percent of visitors surveyed said they were satisfied with the overall value for entrance fees paid.
This summer the park completed over $2 million in improvements to launch ramps and picnic areas as well as the $20 million upgrade at Willow Beach with funding from the Southern Nevada Public Land Management Act.
Annual visitor surveys have been conducted since 1998. It's only been since 2009 that enough surveys have been returned to produce statistically valid results. This year, 400 surveys were distributed to a random sample of park visitors between June 1 and June 30; 237 surveys were returned. There is a margin of error of plus or minus 6 percent with 95 percent confidence.
The survey was conducted in cooperation with the University of Idaho Park Studies Unit.
Lake Mead National Recreation Area is America's fifth most visited national park with over 7 million visits a year. The park offers a variety of outdoor recreation from camping, hiking, cycling to boating and fishing. The park is rich in natural and cultural history. Over 10,000 years of human history and 1.8 billion years of geological history are represented; 25 threatened and endangered species and sensitive Native American cultural sites are protected within the recreation area.
- NPS -