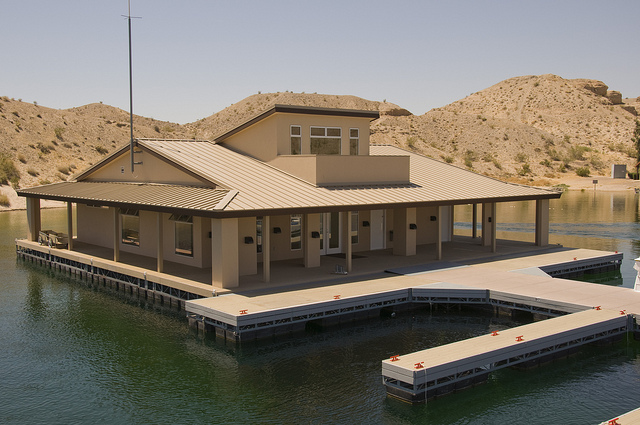 News Release Date:
May 25, 2011
Contact: Andrew S. Muñoz, National Park Service, (702) 293-8692
Contact: Marina Nicola, Forever Resorts, LLC, (702) 586-2137
HI-RES PHOTOS AT: https://www.flickr.com/photos/lakemeadnra/sets/72157626682841815/
SEARCHLIGHT, Nev. – The National Park Service and Forever Resorts, LLC are dedicating the first floating building project in the world to be registered for LEED® certification on Monday, June 6, at 1 p.m. at Lake Mead National Recreation Area's Cottonwood Cove Resort and Marina on Lake Mohave. The building, which will serve as the marina's operations office, is expected to be certified at the LEED® Gold rating. The public is invited.
"It was a visionary team made up of private industry and government led by our partner Forever Resorts that transformed this idea into action," said Superintendent Bill Dickinson. "We're setting the standard for eco-friendly floating buildings. There's no better place than in a national park to do that."
The floating eco-friendly structure features sustainable modular construction and state-of-the-art energy-efficient and environmentally responsible materials and fixtures. Decking is made of a composite of rice hulls and recycled plastic and the exterior stucco is made of recycled tires. Use of low or no volatile organic compound materials, paints and adhesives will rid the building of the typical new building smell, improving the overall indoor air quality.
"Forever Resorts is dedicated to conservation and environmentally sustainable practices, and we couldn't be more excited to make history by developing a building that embraces the eco-friendly principles we support," said John Schoppmann, executive vice president, Forever Resorts. "We will use this building not only to welcome our customers, but also to educate them about sustainable building practices."
Carlson Studio Architecture, based in Sarasota, Fla., was selected to resolve the unique challenge of designing a floating green building based upon their diverse sustainable design leadership. "Every building type has the potential to perform at a higher level with integrated environmental considerations," explained Project Architect Michael R. Carlson. "We jumped at the chance to work with this team to design a first-of-its-kind, first-class marine facility."
To commemorate the building's dedication, the National Park Service and Forever Resorts are conducting an art contest. Submissions should be inspired by the environment, wildlife, landscape and history of the Lake Mead National Recreation Area and will be accepted through August 15, 2011. The winner in each category will receive Black Canyon River Adventure rafting excursions for a family of four and will have their artwork displayed in the new marina building. Additionally, one grand prize winner will receive a houseboat vacation departing from any Forever Resorts marina in the Lake Mead National Recreation Area. Full details and rules are available on Cottonwood Cove Resort & Marina's Facebook page: https://www.facebook.com/CottonwoodCove.
The project's key earth-minded elements and commitments include the Forever Resorts Forever Earth Environmental Management System and a mix of new and existing programs:
Green Cleaning Program throughout the resort (currently in place)

Green Purchasing Program (currently in place)

Energy and Environmental Education Programs for boaters and community members (currently in place)

Extensive energy saving materials and systems, including high-performance insulated glass

High-efficient HVAC equipment and delivery systems

Extensive use of recycled and regionally extracted and/or manufactured materials, such as concrete, steel, drywall, metal studs, carpet, etc.

Finish materials, paints, adhesives, caulks and sealants that contain low or no volatile organic compounds to ensure healthy indoor air quality

Extensive natural daylight and views to the outdoors throughout, maximizing east/west orientation

Recycled and recyclable building and landscape materials

Prevention of night sky pollution
EDITOR'S NOTE – A media availability will be held Monday, June 6 from 9 a.m. to 2 p.m. Officials from the National Park Service, Forever Resorts and the design and engineering firms involved will be available to discuss this groundbreaking structure. Special tours will be provided. Media not able to attend this can contact Marina Nicola, Vox Solid Communications, to schedule a visit.
***
Lake Mead National Recreation Area is the fifth most visited national park in the country and is located adjacent to Las Vegas, the nation's top tourist destination. Its 1.5 million acres, which includes Lake Mead and Lake Mohave, hosts over 7 million visitors each year. The park offers an unparalleled variety of outdoor experiences, a surprising contrast that complements a Las Vegas or Laughlin, Nev. visit. (https://www.nps.gov/lakemead)
Forever Resorts, LLC is an authorized concessionaire of the National Park Service dedicated to providing a collection of destinations that provide hospitality services throughout the world. Forever Resorts focuses on properties with access to nature and one-of-a-kind surroundings for vacations. (http://www.foreverresorts.com and http://www.foreverearth.net)
Cottonwood Cove Resort and Marina is located 90 minutes from Las Vegas and offers lakeside accommodations, houseboat and powerboat rentals, the Cottonwood Cove Cafe and a full-service RV park. It is situated on beautiful Lake Mohave, part of the Lake Mead National Recreation Area, which features miles of unspoiled shoreline, plenty of secluded, sandy beaches, crystal-clear water and consistently high lake levels (http://www.cottonwoodcoveresort.com).
LEED® (Leadership in Energy and Environmental Design) is an internationally recognized green building certification system developed by the U.S. Green Building Council. (http://www.usgbc.org/)
-NPS-