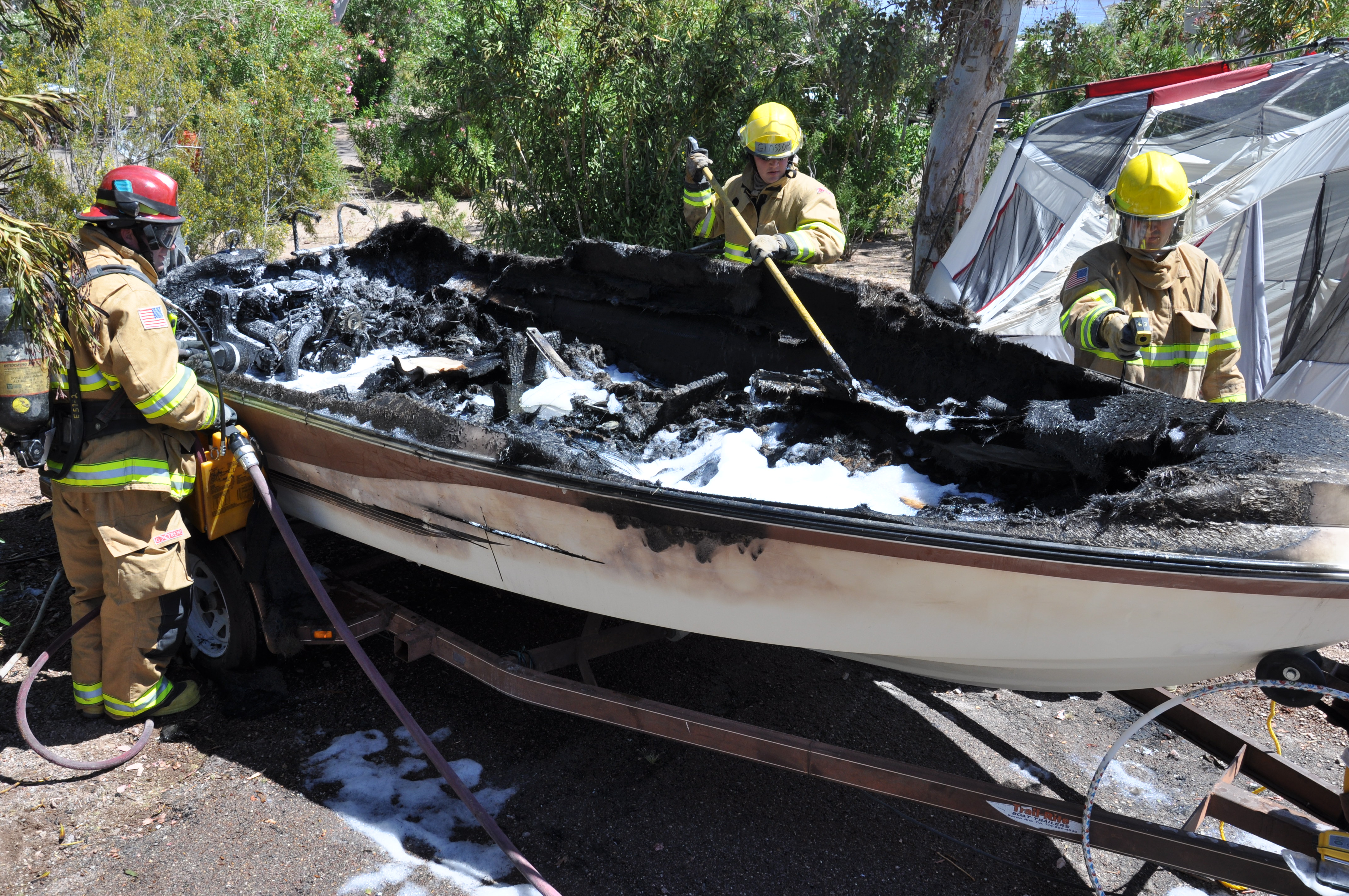 News Release Date:
April 22, 2011
Contact: Andrew S. Muñoz, (702) 293-8691
BOULDER CITY, Nev. – National Park Service rangers and Boulder City firefighters extinguished a boat fire in the crowded Boulder Beach campground at Lake Mead National Recreation Area. The fire was reported to the park dispatch center at 10:39 a.m. this morning.
Once on scene responders began fighting the fire and evacuating campers from the area. Rangers and firefighters had the fire contained by 11:02 a.m. Flames also burned a tent and surrounding brush.
National Park Service investigators say the boat's operator was filling the trailered boat's tank from a gas container when he unintentionally hit the ignition switch. This they believe caused a spark that ignited fuel vapors.
The boat operator and family were visiting the park from Las Vegas. No one was injured.
Buildup of fuel vapors in boats during fueling is common, especially in warmer temperatures. Boaters should always take steps to prevent a fire or explosion by following these tips from the U.S. Coast Guard:
• Close all hatches and other openings before fueling.
• Extinguish all cigarettes and other open flames.
• Turn off engines, all electrical equipment, radios, stoves and other appliances.
• Remove all passengers.
• Keep the fill nozzle in contact with the tank and wipe up any spilled fuel. Spilled fuel can turn into vapors.
• Open all ports, hatches and doors to ventilate after fueling.
• Run the blower on the boat for at least four minutes after fueling is completed.
• Check the bilges for fuel vapors before starting the engine.
• Make sure there is no odor of gasoline anywhere in the boat before starting the engine.
In August 2009, five people from Las Vegas were injured when fuel vapors ignited and their boat exploded at the Callville Bay Marina fuel dock.

- NPS -