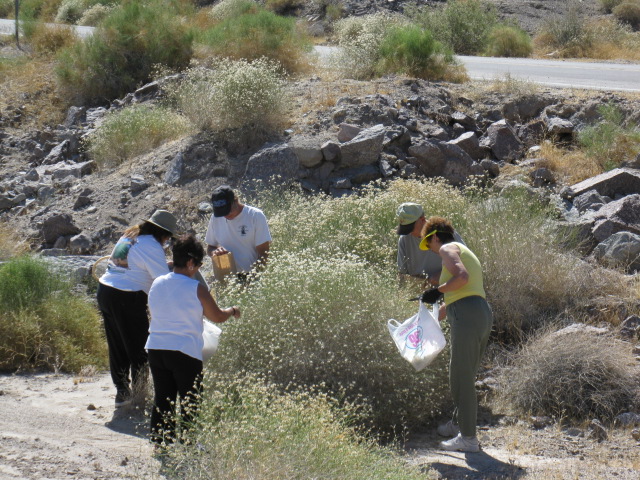 News Release Date:
April 22, 2011
Contact: Sandee Dingman, (702) 298-1070
LAUGHLIN, Nev. – The National Park Service is looking for community and youth organizations to help park service biologists collect native plant seeds in the Laughlin and Bullhead City areas. Collection will take place during May and early June. The collected seeds will eventually be used to augment the landscaping on two local projects.
The Laughlin Regional Heritage Greenway Trail south of Davis Dam along the west bank of the Colorado River has been under construction since January and is expected to be completed in late October. The project is a multi-use trail and day use area funded by the Southern Nevada Public Lands Management Act and is being built in partnership by the National Park Service, Bureau of Reclamation, and Clark County. Some landscaping will be installed as part of the construction project, but there will be additional disturbed lands that need to be re-vegetated with native desert plants. This is a multi-phase effort.
Seed collection for the Laughlin Regional Heritage Greenway Trail started last spring with the efforts of 6 groups and 98 volunteers. Due to delays in awarding the construction contract in 2010 we now have a second season of seed collection available this year. In the fall volunteers will take the collected seed and mix it with soil to make "mud balls" that makes it easier to disperse seed. During the grand opening festivities being planned for winter 2011 and 2012, volunteers will be needed to help park staff disperse the seed and mud balls along the new Laughlin Regional Heritage Greenway Trail.
In 2012, there is a road realignment project being planned for the Katherine Landing area that will also need some additional native plant materials.
This is a rare opportunity since as a national park area, park visitors aren't allowed to harvest seeds or other plant materials on their own in Lake Mead National Recreation Area. Biologists have identified areas for seed collection on public land on both sides of the river to support these two projects.
Groups will be signed up as official National Park Service volunteers. Park staff will work with interested organizations to set a date and location to collect native plant seeds. A short, age-appropriate education program related to desert plants and habitats can also be provided in conjunction with the seed collecting.
Lake Mead National Recreation Area biologist and Laughlin resident, Sandee Dingman, will coordinate the seed collection efforts. If interested, the group leader should contact Sandee at (702) 298-1070.
- NPS -