Stressors
Long-term Limnological and Aquatic Resource Monitoring for Lakes Mead and Mohave Category 3:
Significant alterations to the environment and community structure by abiotic and biotic stressors (i.e., contaminants, invasive species, and/or climate changes) could affect food webs and dynamics within Lakes Mead and Mohave and thereby cause profound ecosystem changes. Contaminants, invasive species, and climate change are discussed in further detail below.
Contaminants
Water quality in Lake Mead, particularly Las Vegas Bay, is affected by point and non-point sources emanating from Las Vegas Wash, an urban perennial stream that receives more than 175 million gallons per day of treated effluent from three wastewater treatment plants in Henderson, Las Vegas, and Clark County, Nevada. In addition, historic military and commercial industrial complexes located near the Wash have contributed known contaminants such as perchlorate, dichlorodiphenyltrichloroethane (DDT), and polychlorinated biphenyls (PCBs). Runoff and ground-water seepage from urban irrigation in Las Vegas also contribute organic contaminants (e.g., bacteria, oil, grease, pesticides, herbicides, nutrients from fertilizers) and metals to the Wash. Perchlorate has been detected in Lake Mead and downstream of the outlet from Hoover Dam in Lake Mohave in the area of Willow Beach. In addition, drought conditions in the region have lowered lake levels more than 100 ft, which may concentrate contaminants in some locations. Specific monitoring and research questions appear in other categories as appropriate, and are repeated within this section.
Invasive Species
The spread of invasive species is recognized as one of the major factors contributing to ecosystem change and instability throughout the world. An invasive species is "a non-native species whose introduction does, or is likely to cause, economic or environmental harm or harm to human, animal, or plant health" (Executive Order 13112, 1999).
Quagga Mussels
Adult quagga mussels (Dreissena bugensis) were detected in Lake Mead in January 2007; they subsequently spread throughout both Lakes Mead and Mohave. This invasive species has the potential to cause millions of dollars of damage by clogging engines and encrusting boats and facilities, disrupting the food chain, disrupting sport fishing, and littering beaches of Lakes Mead and Mohave. Following invasion, NPS developed a Lake Mead NRA Quagga Mussel Response Plan and an Interagency Management Action Plan (I-MAP) for Quagga Mussels with its partners. This document focuses monitoring of adults, juveniles, and veligers. Adults are monitored at 56 selected sampling stations locations that correspond to sub-surface rocky, sandy, and muddy areas. Veligers are monitored at 42 sampling sites. Monitoring intervals are described within the I-MAP.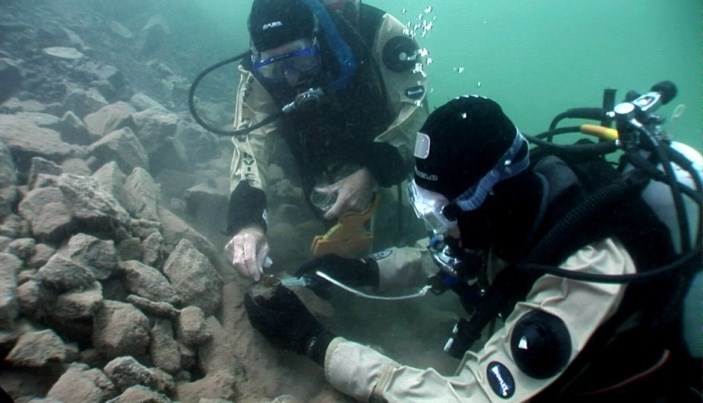 Potential Noxious Aquatic Plant Invaders
The introduction of invasive plant species to United States water bodies has been escalating with widespread destructive consequences. Invasive plants are associated with significant habitat destruction, loss of animal communities, reduced fishing and water recreation opportunities, and large mitigation expenditures. Some potential aquatic plant invaders to Lakes Mead and Mohave include the following species listed below.
Giant Reed (Arundo donax)

Hydrilla (Hydrilla verticillata)

Eurasian Water Millfoil

and

Parrotfeather (Myriophyllum sp.)

Alligator Weed (Alternanthera philoxeroides)

Curly Leaf Pondweed (Potamogeton crispus)

Giant Salvinia (Salvinia molesta)
Climate Change
Colorado River water originates as spring thaws of snowpack in the Rocky Mountains; changes to snow processes in the Rockies will affect all reservoirs along the Colorado, including Lakes Mead and Mohave. Warmer temperatures may create significant water supply shortages in the Colorado River. "A warming climate is, in general, expected to increase water temperatures and modify regional patterns of precipitation, and these changes can have direct effects on water quality (Lettenmaier 2008)." Impacts to Lakes Mead and Mohave ecosystems would likely result from changes in water quantity within the Colorado River system, which would, in turn, correspond to higher probabilities of lowering lake levels, increases in surface water temperatures resulting in changes in plankton/biota and lake mixing, potential increases in urban runoff from increased probability of flash floods, and changes to shoreline vegetation and animal resources.
References
Lettenmaier, D., D. Major, L. Poff, and S. Running. 2008. Water Resources. In: The effects of climate change on agriculture, land resources, water resources, and biodiversity in the United States. A Report by the U.S. Climate Change Science Program and the Subcommittee on Global Change Research. Washington, DC., USA.
Strategic fundamental objectives for this category:
Healthy populations of native fish

Healthy populations of aquatic dependent wildlife

Healthy shoreline dependent native vegetation

A high quality setting for water-based recreation

Regional and community needs met for municipal and industrial uses, including domestic water supply and Colorado River System return flow credits
Management questions best answered by monitoring:
What are the status and trends of contaminants in the water column [e.g., disinfection byproduct precursors, VOCs, radionuclides, priority pollutants (EPA and State), and pathogens]?

more





What contaminants are present in native and non-native fish tissues and to what extent is fish health impaired? Which contaminants, if any, pose a risk to the public (i.e., human health)? more
See also Category 2. Fish and Aquatic Biota.



What are the trends in aquatic invasive species (e.g., quagga mussel, Asiatic clam, New Zealand mudsnail) abundance and distribution? more



What are the trends in invasive species of aquatic plant (e.g., giant reed, hydrilla, Eurasian water milfoil, and giant salvinia) abundance and distribution?

more





What is the difference between historic lake levels and predicted lake levels due to climate change?

more



What is the relationship of flows to lake levels? How does climate change relate to water availability?

more





Are lake surface water temperatures changing as a result of climate change?

more





What impacts are brought about by changes to waste water delivery systems to Boulder Basin?

more



Management questions best answered by research:
To what extent are endocrine disruptors or hormonally active agents (contaminants) interfering with fish health and reproduction? more
See also Category 2. Fish and Aquatic Biota.



What are the best management practices and treatment methods to deal with invasive species to sustain the biodiversity and function of the Lake Mead/Lake Mohave ecosystems?

more





What is the life history of a selected invasive species under the environmental conditions of Lakes Mead and Mohave?

more





What are impacts/potential impacts of aquatic invasive species on water quality related to drinking water and recreation?

more





What are the impacts/potential impacts of invasive species on the Lake Mead and Mohave ecosystems, especially to fish and other aquatic living resources? more



What are impacts/potential impacts of climate change on water quality related to drinking water and recreation? more



What are the impacts/potential impacts of climate change on the Lake Mead and Lake Mohave ecosystems, especially to fish, other aquatic living resources, and birds?

more





What food-web dynamics are in place in Lakes Mead and Mohave? How are these dynamics being altered by drought, contaminants, invasive species, climate change, and other emerging threats?

more





- and - Are upper trophic levels being adequately maintained to support robust wildlife populations? more
See also Category 2. Fish and Aquatic Biota and Category 5. Birds.



Can stressors impact water quality, water security, and water delivery systems in such a way that response actions are required that affect ecosystem components?

more
Last updated: February 28, 2015