Lake Mead Exotic Plant Management Team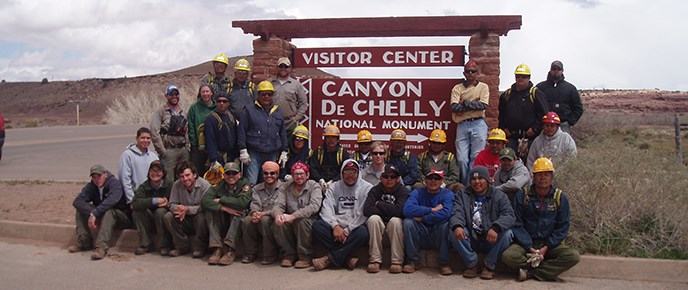 Exotic invasive plants are a widespread problem that almost everyone is familiar with. The weeds in your backyard that you pull every weekend are an example. Within the National Park System alone, there are over 2.6 million acres infested with these non-native, invasive plants. They cause numerous problems. They destroy cultural and historical sites, increase fire hazards, deplete natural resources such as water, and they crowd out native vegetation.
---
Exotic Plant Management Team
In 2000, spurred by the Congressional Natural Resource Challenge, the National Park Service acted on a national level in response to the growing invasive plant problem and created the first Exotic Plant Management Teams (EPMTs). Today there are 16 teams that are deployed across the entire country including Hawaii, Alaska & the US Virgin Islands.
The Lake Mead EPMT served as a model for the development of the nationwide EPMT program from 1996 to 2000. Permanent NPS funding was secured for the team in 2002. The team has leveraged this funding by creating partnerships with several federal, state and local partners. After all, these plants know no boundaries. The EPMT has also partnered with the United States Geological Survey to conduct weed control studies to improve effectiveness.
Due to its numerous years in operation and effective control methods, the Lake Mead NRA EPMT is widely regarded as one of the best invasive weed control groups in the region. Because of this, the team is often solicited by other federal land management agencies, local governments and other entities.
Lake Mead's Top Invasive Species
Salt Cedar
Russian Olive
Russian Knapweed
Perennial Pepperweed
Fountaingrass

Palm Tree (Yes, Palm Trees are not native)
Malta Starthistle
Athel
Arundo
Camelthorn
NPS Areas Covered
Arches NP, Utah
Bryce NP, Utah
Canyon de Chelly NM, Arizona
Canyonlands NP, Utah
Capitol Reef NP, Utah
Cedar Breaks NM, Utah
Death Valley NP, California
Great Basin NP, Nevada
Hovenweep NM, Utah


Joshua Tree NP, California
Lake Mead NRA, Nevada/Arizona
Manzanar NHS, California
Mojave NPres, California
Natural Bridges NM, Utah
Parashant NM, Arizona
Pipe Spring NM, Arizona
Timpanogos Cave NM, Utah
Zion NP, Utah
Bureau of Land Management

Las Vegas District
Needles District



Fish and Wildlife Service

Ash Meadows NWR
Bill Williams NWR
Desert NWR
Havasu NWR
Moapa NWR
Forest Service

Humbolt-Toiyabe NF



Local Partners

City of Henderson
Clark County, NV
Southern NV Interagency Restoration Team
Southern Nevada Water Authority





Last updated: November 7, 2019