History of Willow Beach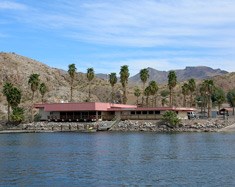 From artifacts found along the Colorado River, Willow Beach might have been a prehistoric trading center. The Basketmaker Indians from Lost City started camping at Willow Beach around 250 B.C. For a while, only the Amargosa people, from the areas to the west, came. Possibly by 750 A.D., the late Basketmaker people were visiting the area again. Sea shells, steatite, and asphaltum from the Pacific Coast were traded for salt, pottery, textiles and other items from the interior. After 1150 A.D., the Shoshoneans mainly camped at Willow Beach.
Paiutes were in Black Canyon area in 1858 when Lieutenant Ives brought his steamboat up the Colorado River.
Before Davis Dam, Willow Beach was a well-known fishing camp on the Colorado River, and even today the trout fishing is unsurpassed in the cold waters below Hoover Dam.


Last updated: February 28, 2015