History of Katherine Landing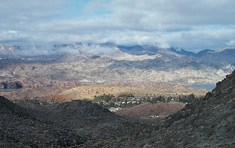 Bullhead City was named for Bull's Head Rock, an old landmark located along the Colorado River. In the years of steamboat travel up the river, it was used as a navigation point. As the waters rose behind Davis Dam, creating Lake Mohave, Bull's Head Rock was gradually covered, with only a small, undistinguishable part of it remaining uncovered.
Spanish explorer Melchlor Diaz discovered this area in 1540, years before the Mayflower landed on the East Coast. In 1776, Father Garces crossed the Colorado River here, nearly a month before the Declaration of Independence was signed.
From 1852 to 1909, steamboats made regular trips up the Colorado River from Port Isabel in the Gulf of California. These sternwheeler river boats played an important part in the early development of the areas bordering the Colorado River.
In October 1857, a caravan of 28 camels crossed the Colorado River below the present Bullhead City. Lieutenant Edward F. Beale was testing camels for desert travel for the War Department. With him was Hi-Jolly, a trained camel handler from Asia Minor.
The site for Davis Dam was selected in 1902, but construction did not start until 1942. It was discontinued in December of that year due to the war. Construction resumed in April 1946, and the dam was completed in 1953.
The Katherine Gold Mine was discovered in 1900 and operated intermittently until 1930. The mine and, subsequently, the surrounding area, was named for the sister of one of the discoverers.


Last updated: April 2, 2018