Plan A Field Trip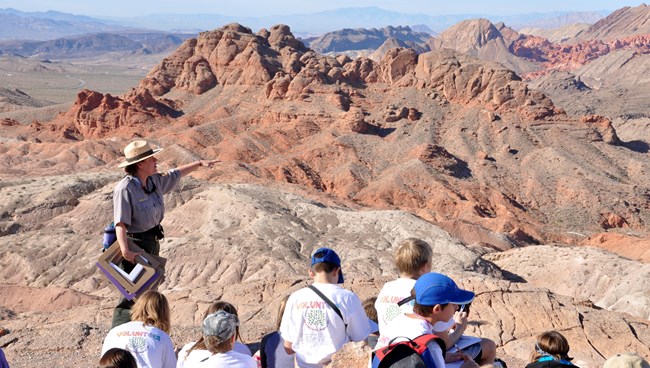 Ranger-Led Field Trips
Scheduling is done on a first-come first-serve basis. For further questions about our field trips or to request a ranger-led field trip, please email our education team.
Within the Lake Mead area, we serve the Clark County School District. Within the Lake Mohave area, we serve various school districts of Mohave County, Arizona. Programs are offered from mid-October through mid-April.
Submitting an Education Fee Waiver is required for ranger-led field trips. It is the responsibility of the educator/organizer to complete and submit the Education Fee Waiver. Once your date has been confirmed with education staff, the educator/organizer must submit your request to our fee revenue office 2 to 4 weeks prior to your visit. Please note that the Education Fee Waiver along with required documents must be completed, submitted and approved through our fee revenue office in order to have park entry fees waived.
Self-Guided Field Trips
Educational groups are encouraged to use the park for their own programs. Because trails are used for ranger-led education programs, we ask that you email us to schedule the use of trails to minimize conflicts. We also strongly suggest to check the weather prior to your field trip to the park, as it is not recommend to hike in the warmer months of the year. Entrance-fee waivers are available for educational visits but not for recreational visits. Please fill out the Education Fee Wavier and submit it to our fee revenue office 2 to 4 weeks prior to your visit. Please note that it is required to describe your class/course, the educational purpose of your trip, and submit all of the required documents.
For further questions about our field trips please contact our education team at:
Email: e-mail us
Phone: 702-293-8990
To submit a completed Education Fee Waiver, please contact our fees team at:
Email: karleen_smith@nps.gov
Phone: 702-293-8798


Last updated: September 11, 2021