Backcountry Roads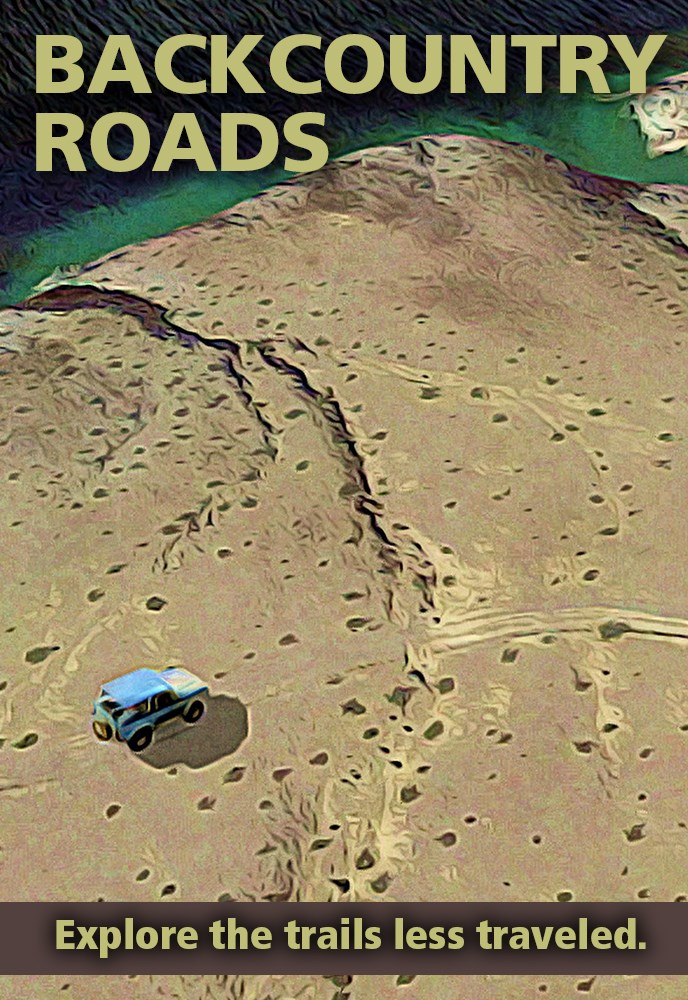 Freedom from Pavement
A network of backcountry roads has been developed to provide access to the lakeshore and other areas of interest in the backcountry. Enjoy the freedom of exploring ancient land formations and distant vistas from places normally not visited.
All motor vehicles, including All-Terrain Vehicles (ATV), All-Terrain Cycles (ATC), and Off-Highway Vehicles (OHV) operated within Lake Mead NRA must be licensed and insured for highway use ("street legal"). Vehicle operators must have a valid operator's license in their possession.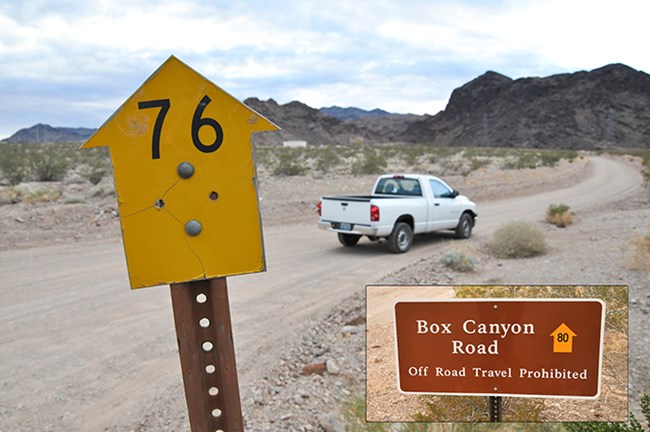 How to Find Backcountry Roads
Approved roads are signed with a yellow arrow. The black number in the center of the arrow designates the road number.
We have a number of backcountry maps available online:
Hoover Dam Area (PDF)
Lake Mohave South (PDF)
Overton Arm Region (PDF)
Backcountry Camping and Hunting
Vehicle camping is permitted at designated backcountry campsites only.
Backpackers may camp anywhere in the backcountry unless posted as a no camping area. Campsites must be at least ½ mile off of designated roads and 100 ft. from any spring, waterhole, seep or other watering device. Maximum stay in any backcountry camping area is 15 days.
Camping in a wash can be hazardous because of the possibility of flash floods. Always be aware of changing weather conditions and move to high ground when it is raining where you are or if you can see it raining in the distance.
Hunting is allowed in the Recreation Area during legal hunting season except in those areas posted as no hunting zones.
Target shooting is prohibited throughout Lake Mead NRA.
Backcountry road conditions can change unexpectedly; be prepared. Always carry in your vehicle:
•Water for you and your vehicle
•Blanket
•Tools
•Shade device
•Snacks like granola bars
•Spare tire
Note: Cell phone coverage can be minimal or non-existent
Think Safety!
Very real dangers to your health and safety exist both in the desert and on the lakes.
Leave an itinerary of your backcountry travels with a responsible person. Information should include:
• Where you are going
• What time you will leave
• What time you expect to return
• If hiking, where you will park your car and what trail/direction you will hike
Carry a map and learn to read it. Cell phones and other electronic devices are unreliable in the park. The high temperatures of summer can cause heat exhaustion or even heat stroke. Avoid strenuous activities during the day. Drink plenty of water and stay hydrated. Your body can lose large amounts of water without you realizing it. Always carry extra water for you (a gallon per person is recommended) and your car (several gallons).
Abandoned mines and tunnels, with their deep shafts and old, rotted supporting timbers are dangerous. Stay out of abandoned mines.
Driving off roads, in washes or across the land damages the fragile desert soil and is prohibited by National Park Service regulations. Please help preserve Lake Mead NRA by staying on approved roads, respecting the rights of other visitors and carrying out all trash and litter.
Protect yourself and the recreation area resources.
Last updated: August 22, 2018