Routes and Destinations
The following route descriptions are not a complete listing. They are simply a sampling of the variety of trips available in the park and preserve. Many of these hikes could be expanded, linked together, or the descriptions used simply to get an idea of the terrain in order to plan your own unique trip. Regardless of how you chose to use them, thorough research and preparation will be important in creating your own safe adventure in Lake Clark National Park and Preserve.
---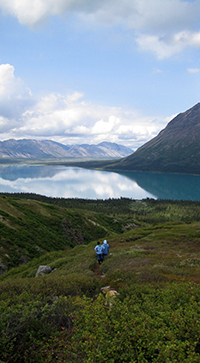 Lakes Country

North and south of Lake Clark stunning turquoise blue lakes stud the connection between the tundra and the Chigmit Mountains. Base camping, backpacking, and hiking options abound.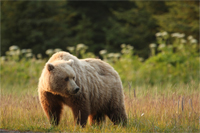 Cook Inlet Coast
The park's coastline is across Cook Inlet from the Kenai Peninsula. The coastal meadows and streams have world-class Alaska brown bear viewing and fishing.