Who Lives at Lake Clark Today?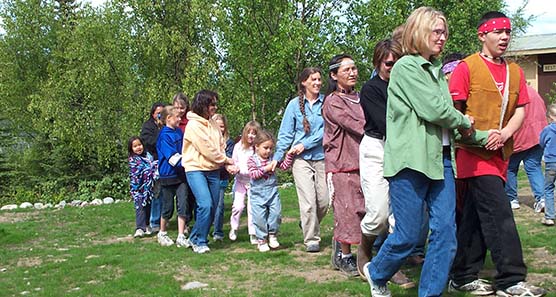 Residents of communities around the Park and Preserve have hunted, fished, and gathered berries and other materials from the land for many generations. Six Resident Zone Communities are identified for Lake Clark National Park and Preserve:
Lime Village, Port Alsworth, Nondalton, Iliamna, Newhalen, and Pedro Bay. English is primarily spoken throughout the area now, but there are still Dena'ina and Yup'ik speakers in these rural areas as well. The majority of the residents in these villages are Dena'ina, an Athabascan-speaking people, but there is a mix of various ethnicities throughout the area. While Nondalton and Lime Village are primarily Dena'ina, Newhalen is primarily Yup'ik speaking. Iliamna is home to Dena'ina, Yup'ik, Euroamerican and other ethnic groups.
Port Alsworth, where the Park Headquarters and Visitors' Center are located, has a large Euroamerican base, and a unique history of developing around mining and trapping interests, but has also been home to a core of Dena'ina families from the north. The current land status divisions in and around Lake Clark National Park & Preserve is a complicated quilt of various kinds of land ownership. There are homesteads, Native allotments, lands and subsurface rights claimed by village or regional Native corporations, and navigable waters controlled by the state. Prior to these divisions, and for many years into the distant past, lands that now make up Lake Clark National Park & Preserve were occupied by communities of people who settled primarily on the shores of lakes, along rivers, and at the confluence of rivers and streams.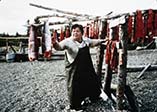 Can people still practice traditional subsistence?
The Alaska National Interest Lands Conservation Act (ANILCA), the enabling legislation for Lake Clark National Park and Preserve and other Alaska public lands, stipulates that all rural people may continue subsistence practices on federal lands, including the park and preserve.
Last updated: April 14, 2015