Thump. Thump bump. Thump bump scraaaaape.
"Alright, were grounded, let's get to work!" As the tide recedes, our boats feet settle roughly into the gravely tidalflat and it's time begin. Tools and equipment for our mission are unloaded and unloaded and unloaded until our mountain of buckets, shovels, flags and computers look as if they could never have all fit on the boat. As we've been unloading, the water has been "creeping" away at an astonishing pace and within an hour, the vast tidal flats of Polly Creek begin to show themselves. Stretching for several miles down the coast and up to a mile from shore at low tide, the extent of these tidal flats is hard to get your head around.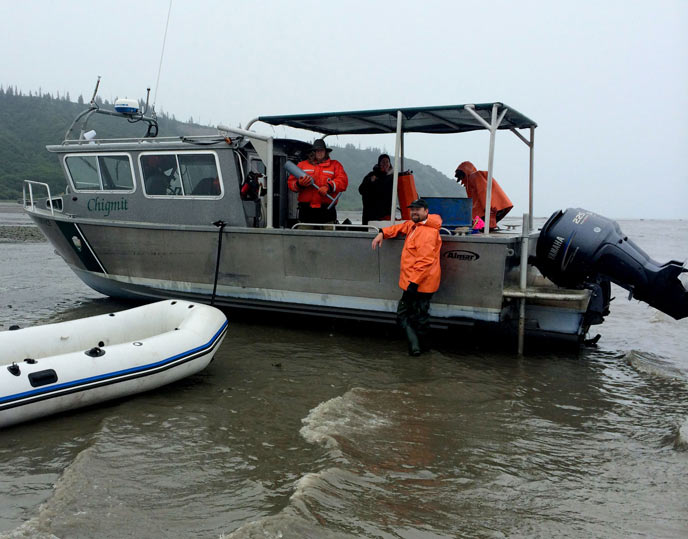 Park staff prepare for razor clam collection while the NPS vessel the "Chigmit" goes dry on its "feet".
NPS Photo / Sam Stark
We've come to Polly Creek for the same reason people have come to this remote coast of Lake Clark National Park for almost 100 years. It is loaded with razor clams. Unlike the other boats full sport fisherman and commercial clammers landing on the beach today, however, we aren't here to harvest, we are here to study. Our work is part of the
Changing Tides Project
, a multi-year study looking at the link between coastal brown bears and marine intertidal invertebrates.
Razor clams, while managed for harvest by Alaska Department of Fish and Game (ADF&G), play an important role in connecting marine and terrestrial ecosystems within our national parks. The agents of transport are clam eating brown bears who feed extensively on razor clams before switching to salmon in the late summer and fall.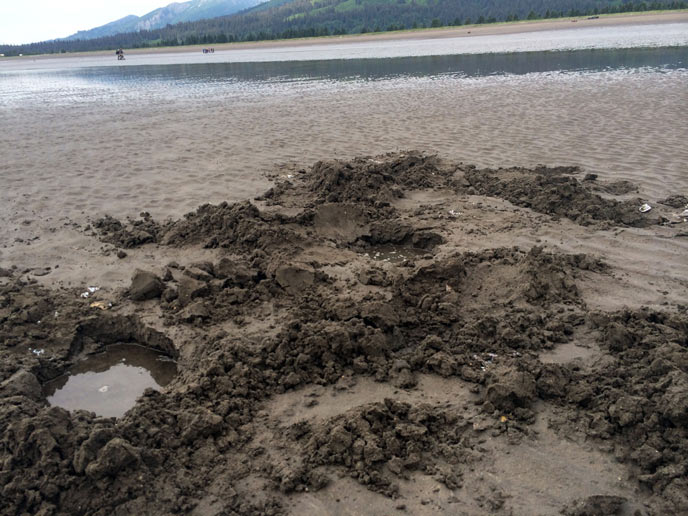 Pits dug by brown bears while feeding on razor clams in Lake Clark National Park.
NPS Photo / Sam Stark

Polly Creek has sustained commercial harvest of razor clams intermittently since the early 20th century and is currently the only beach in the Cook Inlet with an active commercial razor clam fishery. In spite of this consistent commercial harvest pressure along with an increase in recreational harvest pressure, commercial harvest levels reported to ADF&G have remained relatively consistent compared to the east side of Cook Inlet. Across the water on the Kenai Peninsula side of the inlet, however, sport harvest numbers have seen drastic changes over the last 50 years. From over 1 million clams harvested annually in the mid-1980's, harvest had fallen to around 500,000 by 2011 and the fishery was closed by an ADF&G emergency order this year due to a dramatic decrease in recruitment of mature clams. Our crew of National Park scientists, rangers, and technicians, in collaboration with the Alaska Sea Life Center, arrived at Poly Creek on this stormy Independence day to begin unravelling the ties between the clams at this historic beach and the bears that feed on them. What are drivers affecting clam abundance? What would it mean for bears if they didn't have such abundant clams to feed on? What would that mean for Alaska's coastal parks?
As we set up our GPS and organize our gear the show begins. From a nearby creek mouth, a raft emerges, followed by three more. Loaded down with buckets for their crew of 20 or more men, these professional clammers expertly navigate the shallow creek and shuttle their cargo to boats that are anchored close to shore. As they meet their crew in the waist deep water, more boats begin appearing from the offshore. Recreational clammers and charter boats begin lining up at the waterline and as the tide drops even further their boats go dry as well. As the miles of waterline fill with clammers, our crew begins our sampling.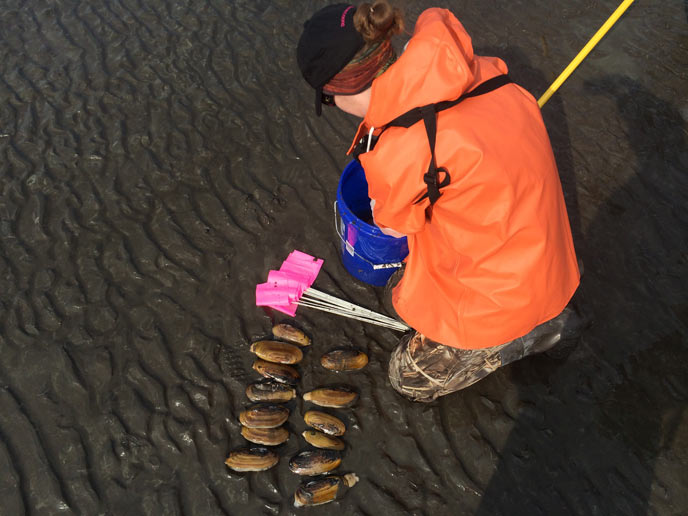 Live clams are collected for laboratory analysis.
NPS Photo / Sam Stark
The question of how to measure Razor Clam abundance has puzzled marine biologist and managers for decades. The current method utilized by state fisheries managers involves intensive sampling of only the most popular clamming beaches(for humans). As our goal is to understand trends in the inlets razor populations in areas where they are prey for bears, we felt it was necessary to develop a more extensive sample technique which could be applied to the diverse clam beaches of the west side of Cook Inlet. In order to this we experimented with several techniques to estimate abundance including photo sampling, quad excavation and point counts to estimate clam "shows", which are holes in the sand created by the clam's siphon.
Using these techniques we scour the tide flats searching for clams, digging, sampling, discussing and reevaluating as the bustle of harvest goes on all around us. As the tide changes and begins creeping back in, the last flurries of digging finish and the boats full of these bountiful bivalves motor away, leaving the beach quiet again for us to mark our last shows before they are swallowed again by the ocean and the lapping waves of the tide chase us back to our boat. Our mountain of gear now piled miraculously back in the boat along with 30 new passengers siphoning away in buckets, we wait for the scraaaape bump thump. Bump thump. Thump, of the ocean to free us once again from the beach.
Every beach we visited and sampled had a unique character of its own. One beach was heavily utilized by bears for clam foraging and another contained almost exclusively large mature clams. Creating a sampling protocol which will apply to the entire Gulf Coast of Alaska will be a challenging task, one perfectly suited for the resource managers at your National Parks.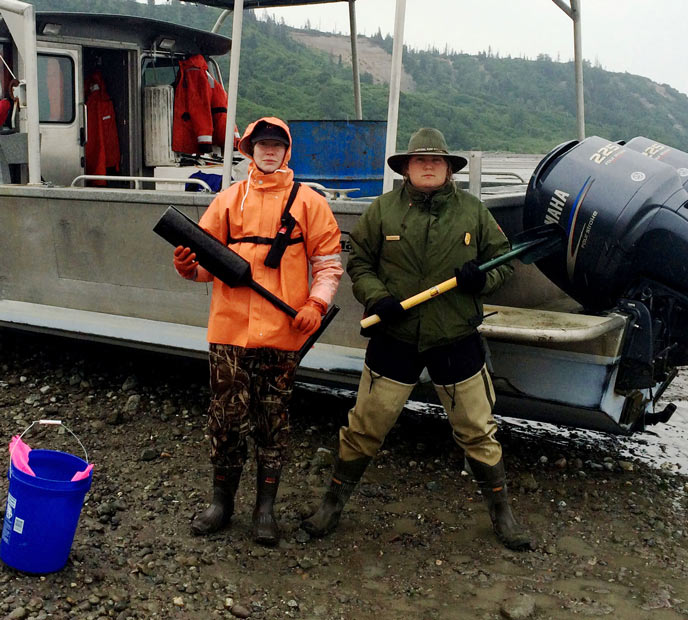 For more information on this project and razor clams around the Cook Inlet check out some of the following links
: