Special Events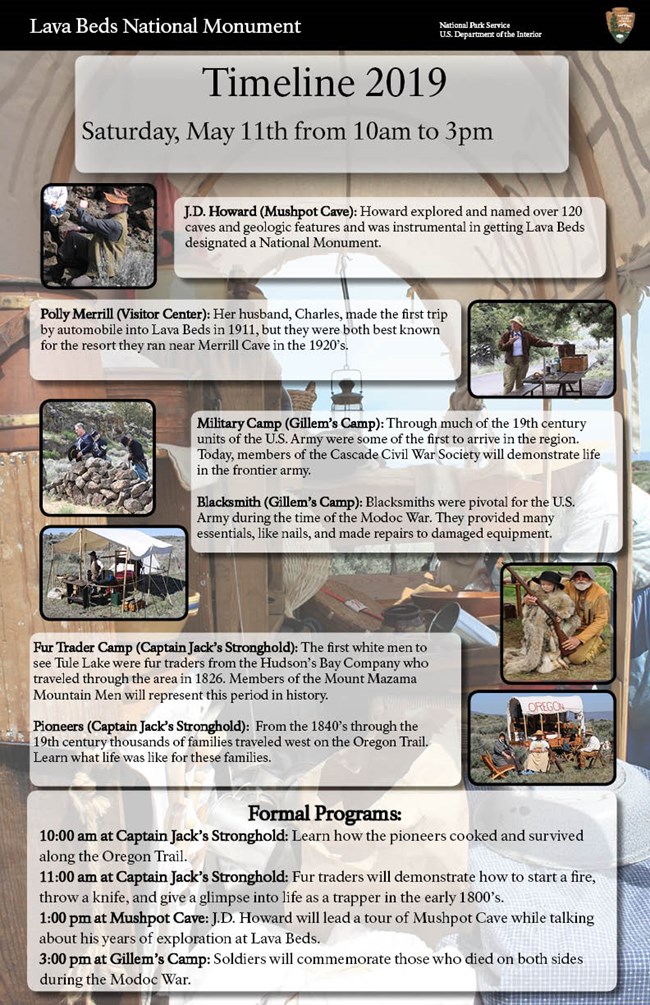 Join us May 11th from 10 am to 3 pm and take a trip back in time by visiting any of the below living history demonstarations. You can also lean more by attending one or all of the formal programs.
Formal Programs:
10:00 am at Captain Jack's Stronghold: Learn how the pioneers cooked and survived along the Oregon Trail.
11:00 am at Captain Jack's Stronghold: Fur traders will demonstrate how to start a fire, throw a knife, and give a glimpse into life as a trapper in the early 1800's.
1:00 pm at Mushpot Cave: J.D. Howard will lead a tour of Mushpot Cave while talking about his years of exploration at Lava Beds.
3:00 pm at Gillem's Camp: Soldiers will commemorate those who died on both sides during the Modoc War.
Solar System Talk

Join Bill Nye and learn about all the sun and all the planets in the solar system.

Date created:

2020-10-14 00:00:00.0
Last updated: June 16, 2019