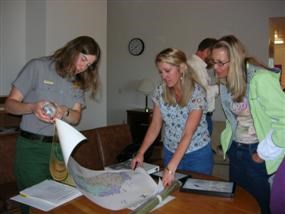 In an effort to better serve students and teachers in the local area, Lava Beds is pleased to add 'Ranger In The Classroom' programming to our educational opportunities. A National Park Service ranger can come to your classroom present curriculum-based lessons and activities as stand-alone adjuncts to your learning plan, to reinforce lessons found in the Monument's traveling trunks, or to prepare students for a field trip to Lava Beds.
In spring 2008, Lava Beds' education staff presented programs on local geology, local history, the Modoc War, bats, and the food chain in Oregon and California classrooms ranging from kindergarten through 6th grade. We are continuing to develop programs on these and many other topics.
Curriculum standards for K-2nd bats program- Oregon and California

Curriculum standards for 3rd-5th bats program- Oregon and California

more curriculum standard links coming soon





Are you a teacher in south central Oregon or northeastern California who would like a ranger to visit your classroom? Are there additional topics you cover in your curriculum that would be greatly enhanced through a "virtual exploration" of the resources at Lava Beds?
Please contact Education Coordinator Angela Sutton with your ideas, or to schedule a classroom visit at least 6 weeks in advance. We look forward to meeting you soon!