Teacher Ranger Teacher
The Teacher-Ranger-Teacher (TRT) program is an extended professional development opportunity for educators from K-12 schools to learn about the resources and educational materials available through the National Park Services. Teachers participating in TRT will have the opportunity to engage in parks and park resources, participate in a webinar about lesson planning, and develop at least one lesson to be used in their classroom or school. They will also be able to assist the park with an education project and increase their understanding of place-based learning.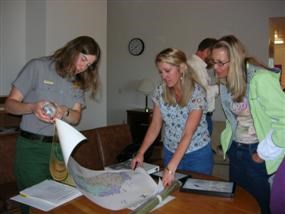 Lava Beds TRT Program
Teachers selected as aTRT spend part of the summer working side-by-side with park rangers performing various duties such as developing materials for new education program and updating an education kit.
The TRT program provides a stipend, and 3 graduate credit hours through University of Colorado, Denver. Teachers will also gain new national park knowledge and experiences that they can bring into their classrooms to engage students, faculty, and staff in lessons and activities that relate to Lava Beds National Monument and other national park sites.
The TRT program is a commitment of at least 230 hours made up of:
160 hours of a major educational project
45 hours of online coursework
25 hours of NPS operational experiences
Benefits
To Teacher:
$3,000 stipend
3 graduate level credits from University of Colorado Denver
Obtain new knowledge and skills by working with park staff
Enhance curriculum in multiple content areas
Gain access to a wide array of teaching resources and tools
Develop a personal connection with national parks
To Lava Beds:
Opportunity to reach new or under-served audiences through innovative and engaging programs
Build a network of enthusiastic, knowledgeable educators who are able to teach their students and colleagues about the significance of national parks and heritage conservation
Application Process
Teachers applydirectly to the park by downloading and completing the application form. Currently Lava Beds is not offering a Teacher Ranger Teacher program. To inqure about possible future programs please email LABE_information@nps.gov
Last updated: June 11, 2022