Elaine Philips - Wolf at the Door
Wolf at the Door
Elaine Philips, Textile Collage
Kobuk Valley National Park Artist-in-Residence, 2013
Elaine Philips has a unique talent: She can make almost anything out of ribbons. As the 2013 Artist in Residence at Kobuk Valley National Park, she completed the tapestry seen here, "Wolf at the Door."
Phillips works as a training supervisor for the Community Health Aid Program at the Kanakanak Hospital in Dillingham, and has also lived in Barrow and Kotzebue. In her free time, this versatile artist paints murals, illustrates books, sews, embroiders, and, of course, creates tapestries with an eclectic mix of textiles.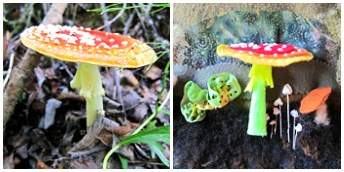 "Since I was little, I loved to do art," Philips said. "In our family, that was more important than many things. My father took oil painting lessons, and my mother sewed all of the time." Later, as a nursing professional in Barrow, Elaine was asked by a friend to "come up with a ribbon embroidery kit" to sell through a mail-order catalog. The leftovers from that enterprise sparked a new artistic interest—making realistic flowers out of ribbons.
At Kobuk Valley's Onion Portage, Elaine was given the perfect inspiration for her new textile collage: A wolf, literally at her door.
"We had blueberry pancakes for breakfast all three days, and on the last day, I wanted to go outside [to cut fabric]," Philips said. "I opened the door, and there was a wolf. He was sniffing the air, like, where's the blueberries? I kept watching for a long time, sending out loving thoughts. After a long time of just looking at each other, he...turned and walked away." Philips added that wolves are usually very skittish, so this was an unusual event.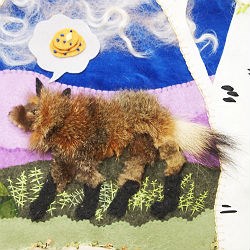 "I had wondered what would be the point of my time at Onion Portage, and it became obvious. So I looked at my pile of scraps…and Linda [Jeshke, of the National Park Service] had a wolf tail that she gave me a bit of, and that is the wolf's tail in the collage."
If you look closely, you can even see a figure of Elaine, framed in the tiny doorway. She is thinking "love," and the wolf is thinking "pancakes."
"Nature is so perfect to me," Philips said. "I think God is the best artist, and anything I copy is going to come out good."
Last updated: October 20, 2015