Distance Learning
A Hidatsa Earthlodge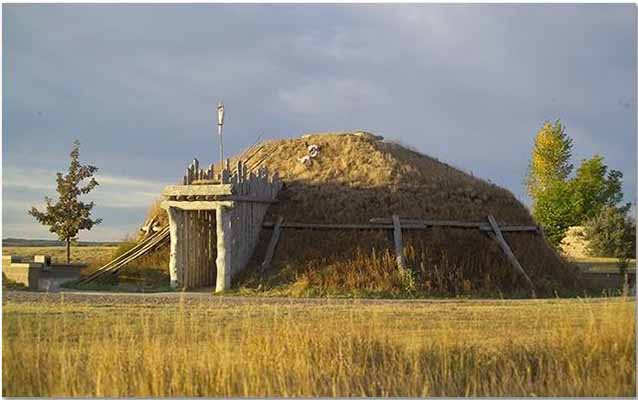 Overview
Park Rangers describe the home of the Tribes of the Northern Great Plains from inside of a lifesize replica earthlodge.  They also describe the roles and responsibilites of people within the community, trade relations, and effects of trade on technology used by the Mandan, Hidatsa, and Arikara during the 1800s.
Objectives
Explain Hidatsa/Mandan/Arikara Lifeways:  Archeological connections to the Knife River Indian Villages.
Describe village life of the Hidatsa and Mandan groups during the peak of their culture in the early 19th century.
Compare what we know from archaeology about seasonally nomadic Plains Villagers with the more popularized film and textbook history of nomadic horse-culture Indians such as the Lakota and Cheyenne.
Program Format
1.  The program begins with a brief introduction to the Knife River Indian Villages for first time visitors.
2.  Then roles and responsibilities of various tribal people are discussed
3.  Next we move into the American Indian's various uses of the Buffalo (American Bison) while viewing actual parts, and the items made from those parts.
4.  Finally time is allowed for questions and answers.
How to Participate
Knife River Indian Villages National Historic Site uses a bridge to connect with schools.  Please contact our education specialist to schedule a test call at least one week prior to program time.  
If you have any questions, please feel free to call (701) 745-3300 ext 1201.
Thank you.
Details
Subject:

Anthropology, Archaeology, Community, Family Life, History

National/State Standards:

Fourth Grade
Social Studies
4.1.1,4.1.3
Eighth Grade
8.1.1,8.1.2

Keywords:

indians, Hidatsa, Earthlodge, earth lodge, Mandan, Arikara, Tribes, Buffalo, buffalo hide, Native American culture, Native American history

type:

Distance Learning
Last updated: February 11, 2019