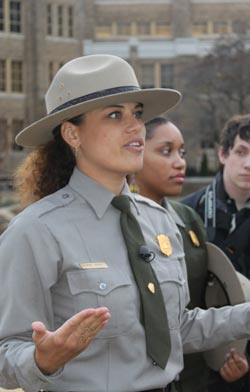 After working 18 months as the Chief of Interpretation for Klondike Gold Rush National Historical Park in Seattle, Spirit Trickey, has quit. Spirit, had originally been enthusiastic about working in Seattle and, "learning about the people who struggled and triumphed during the gold rush." In March 2014, realizing her work responsibilities were limiting her personal projects, she decided to quit to pursue them full time.
Spirit had begun working for the NPS in 2002, as a seasonal at the Little Rock Central High School National Historic Site. Her mother Minnijean Brown had been one of the "Little Rock Nine". She later moved from seasonal park guide to a full time interpretive ranger and eventually was named as the acting Chief of Interpretation.
In 2010 Spirit was awarded the Freeman Tilden award establishing the a Youth Leadership Academy (YLA). at Little Rock Central Historic Site.
Commenting about her career, "I have made meaningful friendships while learning about our interconnected American histories," she said. "I will miss my park family."