Hiking With Your Dog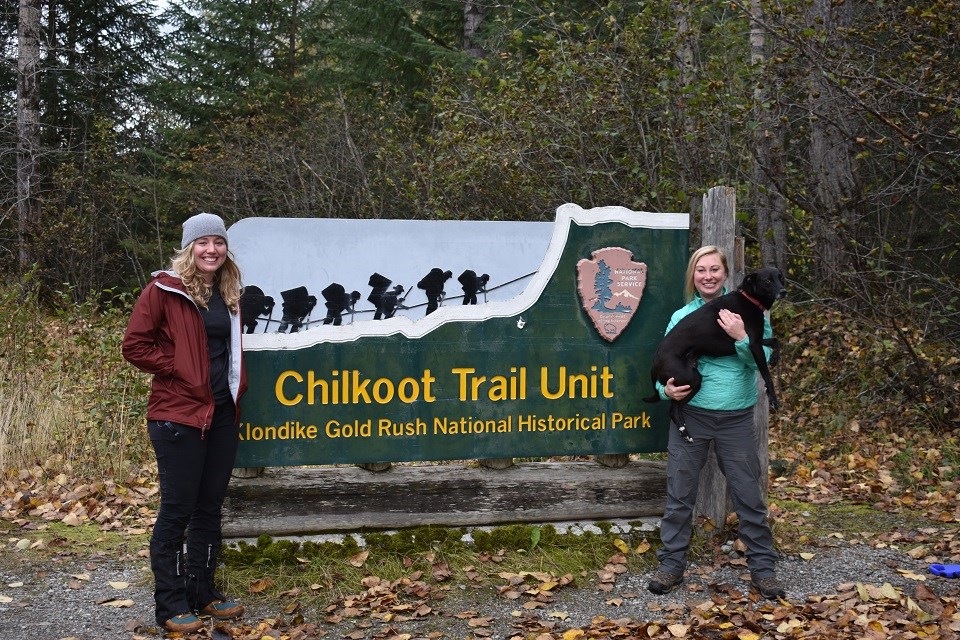 Bringing your four-legged friend as a hiking companion on the Chilkoot Trail is nothing new, but rules about dogs on the trail have changed since the days of the gold rush. Before embarking on a single day or multi-day hiking trip, dog owners should be aware of some of the following issues that their dogs may face while on the trail:
This is a very rough trail with lots of rocks that can be rough on dog paws, so bring a dog first aid kit.

Some water sources are difficult to get to with a dog on leash, so bring a water dish.

Conditions can be very wet on the trail, so bring a towel for your dog.

Sleeping directly on the ground can be very cold, so bring warm gear and a sleeping pad for your dog.

Hikers must cross one suspension bridge that not all dogs are comfortable with (must cross two if hikers go to the Canyon City Ruins). Suspension bridges are built to be flexible and they can sway and yield to hiker body weights, but some dogs struggle with this lack of stability under foot

The Golden Stairs is a ½ mile steep ascent up a scree and boulder field, so dogs will have to rock hop.

Dogs are not allowed on emergency medical helicopter flights, so solo hikes with dogs are not advised.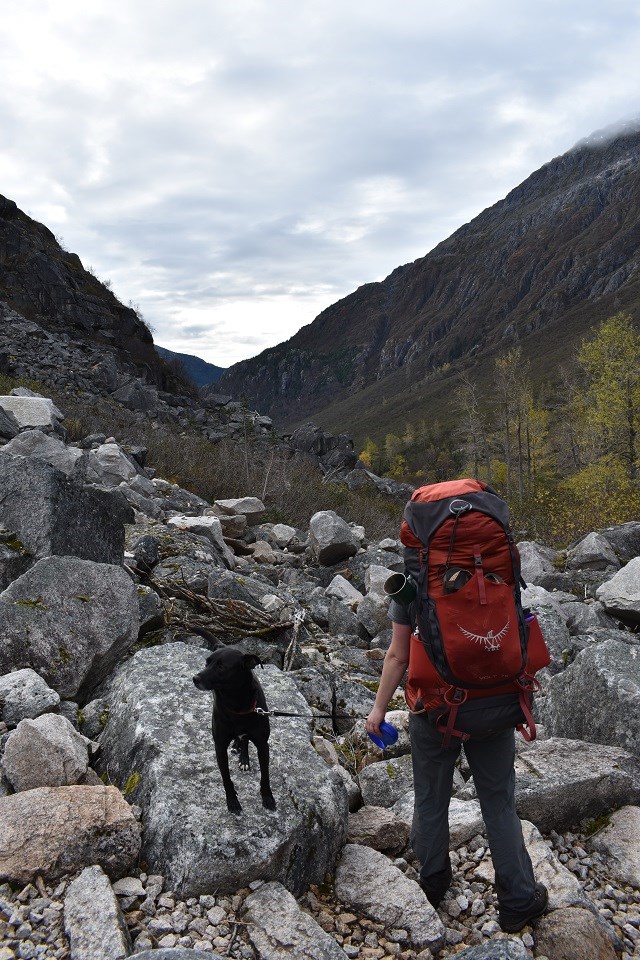 Rules for Dogs on the Chilkoot Trail
Due to safety issues for you, your dog, and other hikers, the following rules for bringing your dog on the Chilkoot Trail have been established:
Dogs must be on leash at all times. Chilkoot Trail rangers enforce a zero-tolerance leash law. A restraining device not to exceed six feet is required. The steep boulder and scree field between the Scales and the international border can be very challenging, especially with a dog. Please plan for this potentially dangerous section before ascending the Golden Stairs.
Dog food must be stored in provided or approved food storage devices along with your food. The Interagency Grizzly Bear Committee (IGBC) has a certified list of bear-proof products that you can refer to.
Dogs are prohibited by regulation from entering any shelters or buildings. Other hikers may be afraid of or allergic to dogs.
Dogs must eat in designated prep/eating area. Please do not feed your dog at your tent site as it can attract bears to your sleeping area. Steep fines may be issued for violations of food storage/preparation guidelines.
There is a $130 fine per dog if they are found off leash.
Dogs must have up-to-date rabies vaccination and paperwork. A U.S. or Canada Customs agent may require paperwork for entry, so be sure to bring it along.
Preparing Your Dog for the Trail
Is your dog ready?
You need to wait until a young dog's bones are fully developed. That might be at a year of age, plus or minus several months, depending on size and other factors.
Does your dog need any specific vaccinations or preventative medicines?
In the city, you might not worry about things like your dog drinking water in a contaminated lake or pond. Ask your veterinarian about preventative measures for outdoor destinations.
Is your dog's immune system ready?
Factoring in the rate of natural immunity development and your dog's vaccine schedule, your veterinarian can advise you about the safe age for your dog to hit the trail.
Leave No Trace:
Humans and dogs have the same
Leave No Trace rule
on the Chilkoot Trail: Pet waste must be picked up and disposed in an established toilet facility or packed out. Due to the prolific distribution of cultural resources and artifacts along the Chilkoot Trail, "cat holes" are prohibited in the park.
Start a trail-training regimen:
Ease your dog into the routine of hiking. Start with hikes of an hour or so, and then track the dog's energy level afterwards. If your dog is still super active, increase the time for the next training hike. Your goal is to work up to the amount of trail time you plan to do on future day hikes or backpacking trips.
The all-important dog pack:
It's not the only gear your dog needs, but it separates going on a walk from going on a hike. Getting the fit right and getting your dog accustomed to the pack are your most important tasks.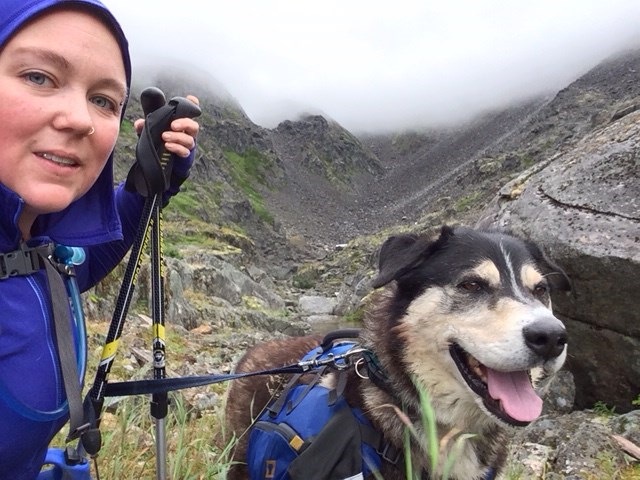 How to Fit a Dog Pack
Measure the circumference of your dog's chest around the widest part of the rib cage. Most packs come in a range of sizes that will correspond to this measurement. Adjust all straps to ensure a snug, but not too tight, fit. Make sure the pack is snug enough that your dog can comfortably breathe but not so loose that it will slip off or chafe.
For pack training, start by having your dog wear it empty around the house and on walks. As soon as wearing the pack becomes routine, load in a few pounds evenly on each side. Gradually increase pack weight on each walk after that until you reach your target weight. A maximum of 25 percent of body weight is a rough guideline, but factors like age, size, and strength will alter that up or down.
Last updated: February 12, 2020