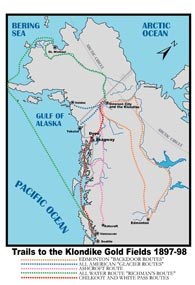 There were several ways to get to the remote gold fields. The all-water route, often referred to as the rich man's route was a 4,700-mile trip that began in Seattle then passed through the mouth of the Yukon River at St. Michael and continued up the Yukon to Dawson City.
The second way people went to the Klondike was the all-land route starting in Edmonton, Alberta. The journey took about two years. Only one in five people who attempted this dangerous 1,600-mile route made it to Dawson City.
The third route was by far the most popular. The land/sea route left from Seattle and headed north through the Inside Passage to the towns of Skagway and Dyea. If the Stampeder chose to land at Skagway, he could go over the White Pass Trail to Lake Bennett. If the Stampeder chose to land at Dyea, he would hike over the Chilkoot Pass to Lake Bennett. From Lake Bennett, it was a 550-mile boat trip to Dawson City and the Klondike goldfields.