Curricula
Moore, Skagway and the Great Adventure Northwards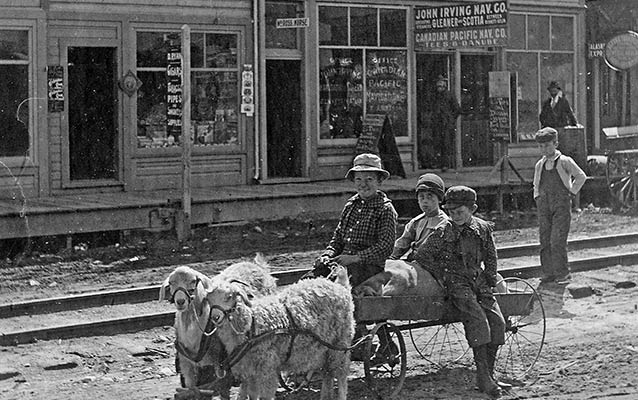 Moore, Skagway, and the Great Adventure is an interdisciplinary program designed to help 4-6th grade students achieve state and national standards in history, reading, writing, geography, math, and Alaska Studies.
This program can be entirely classroom based, or can be combined with a visit to the park. You'll find two park-based program options and an activity book that provide students with an opportunity to explore the role Skagway and its residents had in the Klondike Gold Rush:
Option A consists of a 45-minute illustrated town tour where students will discover the unique resources of Klondike Gold Rush National Historical Park first hand.


Option B consists of the town tour with two additional hands on opportunities. A 10-minute museum activity and a costumed 40-minute Moore Homestead activity. The hands on opportunities will complement the tour by bringing the Victorian age alive for the students.


The activity book consists of an introduction; several history readings on the Klondike, Skagway and Captain William Moore; activities; reading recommendations; vocabulary lists; a timeline of the Klondike Gold Rush; and a Jeopardy-style game.
The story of the Klondike Gold Rush is revealed in the thousands of artifacts, photographs, andarcheological features that can be observed along the White Pass and Chilkoot trails and in associationwith historic buildings in Skagway.

After completing the activities in this guide, students will be able to:

Identify the national economic reason behind the explosive nature of the Klondike Gold Rushstampede
Describe the linear development of Skagway from homestead to post gold rush boomtown
List three important figures in Skagway's history

Details
Subject:

Commerce and Industry, Economics, Entrepreneurs, Geography, Geology, Historic Preservation, History, Pioneer America, Westward Expansion

National/State Standards:

Alaska State Standards:
History A5 A6 C2
Geography A1
Mathematics B6
English/Language Arts C3
Alaska Studies History Standards - Gold Rush HB4

Keywords:

Klondike, Skagway, Gold Rush

type:

Curricula