Curricula
Earth Science in Alaska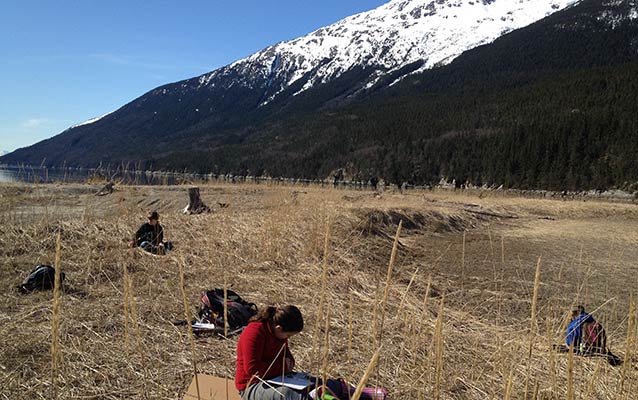 Place-Based and Field Study Approach
Dyea, Alaska is a system of tidal flats located 10 miles from Skagway, AK and is one of a limited number of places left of its kind. Dyea contains a ghost town, a relic from the past. It is also being molded, shaped, and recreated everyday by natural processes. The learning opportunities in Dyea are infinite and provide an outdoor classroom where students can use inquiry and investigation skills to study the dynamic landscape. The focus of this curriculum is a field study of Dyea, where students will collect samples to be tested, make observations, and monitor the quality of Dyea's habitat, water, biodiversity, and succession progression. Pre- and post- classroom activities are also included to enhance the field study.
The field study as well as the classroom based learning opportunities will meet Alaskan State Learning Standards in science and math, providing an interdisciplinary perspective of Dyea, AK.
Rotating Curriculum Designed for Skagway School District Operations
Skagway School District is situated in a remote location of Southeast Alaska; therefore the school operation is unique. In the elementary school grade levels are combined. This curriculum recognizes this challenge and offers a rotating curriculum to ensure students are receiving a full scope and sequence of knowledge and not repeating lessons.
First Year Topics for Field Based Inquiry
3rd Grade/ 4th Grade: Habitat and Communities
5th Grade/ 6th Grade: Soil Study and Plant Succession

Second Year Topics for Field Based Inquiry
3rd Grade/ 4th Grade: Watershed and Water Cycle
5th Grade/ 6th Grade: Biodiversity and Plant Succession

Each of these units consists of five lessons: One pre-lesson to be facilitated by the teacher, one pre field study classroom visit by a National Park Service Ranger, one field study day in Dyea, and one post field study ranger-led lesson to analyze data and culminating lesson in which students will present presentation of field investigation. This series of activities will take place twice a year, once in the fall and once in the spring.
Program Goals
Foster a long term partnership between the National Park Service, the Skagway School District, and the Skagway community to further develop appreciation of Skagway's historical and natural significance.
Develop and use skills of inquiry, observation and investigation to gain an understanding of scientific processes used by field researchers and resource managers. 
Create a long term data set that can be used by future students, public land managers, and other park education programs to evaluate and better understand the changes occurring in Dyea, Alaska. 
Develop an understanding of the interaction between people and their physical environment as it changes overtime. 
Create awareness of the fragility and resilience of ecosystem and cultural sites. 
Meet Alaskan State Grade Level Expectations in Science and Alaska State History Performance Standards through hands-on field study. 
Provide students with a sense of ownership of their public lands encouraging stewardship and providing the knowledge needed to help them make informed decisions about public lands in the future.
Details
Subject:

Earth Science

National/State Standards:

Alaska State GLE:
Science as Inquiry
(5)SG 2.1 Reviewing and recording results of investigation of the natural world

Keywords:

earth science, alaska, forest succession, ghost town

type:

Curricula