A few weeks have passed since Nicole and I have started working at Klondike Gold Rush National Historical Park, and we've slowly gotten used to what spending the summer in Skagway entails. As we're two gals originally from the East Coast, it's taken some time to get used to the fact that the sun shines (or does it?) for 18 hours each day and the temperature hovers right around sixty degrees Fahrenheit. But we've taken the change in climate (and landscape!) in stride, finding that the best thing to do on weekends is to lace up our hiking boots and venture out on the local trails. We're quite lucky that Klondike Gold Rush National Historical Park is hosting us as artifact conservation interns this summer, and we're definitely enjoying not only exploring Alaska, but also working on artifacts in the museum collection.

Together we are working on treating artifacts that will be exhibited in Jeff. Smiths Parlor Museum, a historic structure that is in the process of being restored, slated to be completed for 2016. Now, if the words "artifact conservation" are a bit foreign to you, don't fret. Artifact conservation is a tenet of art conservation, a narrow, specialized field within the museum world that focuses on the preservation of a variety of museum objects, including  books, paper, paintings, historical artifacts, photographs, furniture, archaeological materials, and textiles, among others. Now, you might be thinking, "What exactly does preservation entail?"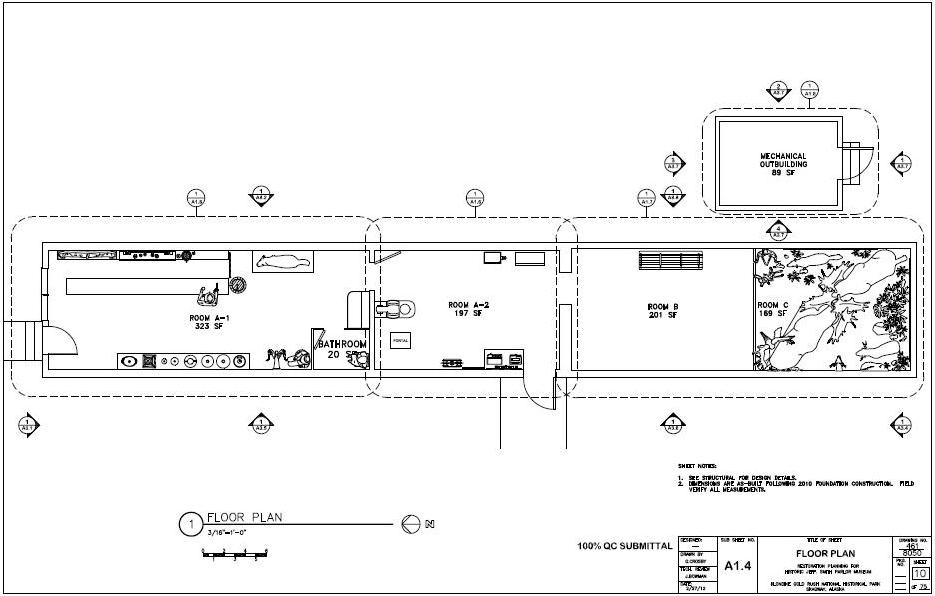 Well, different factors like temperature, humidity, and light exposure have an effect on humans (think chills, sweating, and sunburn), but these kinds of environmental conditions also have an effect on objects. For example, if you are sweating due to high temperature and humidity, chances are, a wooden artifact will be drinking in that moisture in the air, leading to possible mold and structural issues. On the flip side, if you are getting sunburned, you can bet that a silk textile will also be feeling the effect of the sun's UV-rays, leading to bleaching and structural destruction.
Art conservation requires extensive knowledge of chemistry and materials science - conservators need to know how different environments will affect the chemical composition of a material. This way, museums can judge how best to store and display their artifacts. But art conservation is not all science either.

Art history and fine arts are two other disciplines that art conservation ties together. Not only do conservators need to know the behavior and reactivity of different materials, but it is important to be able to understand artifacts and artworks from a historical perspective as well. After all, without knowledge of how and why things are made, an appropriate decision for the care of an object cannot be made. Think about the Mona Lisa, for instance. If conservators were trying to clean a layer of dirt off the painting, but knew little about Leonardo da Vinci or his painting process, they might use a cleaning method that inadvertently takes off a layer of paint with the surface dirt, perhaps destroying the painting for future study and enjoyment.

This is where Nicole and I, as conservation interns, come into play. As aspiring art conservators, we have experience working with historic artifacts and will be helping to prepare artifacts for display in Jeff. Smiths Parlor Museum, meaning we will be cleaning and stabilizing a variety of historic objects.
Originally from Pittsburgh, Pennsylvania, Nicole is a recent transplant from Indianapolis, Indiana, where she worked as a conservation intern and technician at the Indianapolis Museum of Art and the Eiteljorg Museum of American Indians & Western Art. She holds a Bachelor's degree in Fine Arts with a concentration in ceramic media and a master's degree in Art History, both from West Virginia University.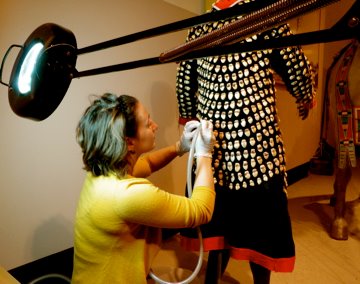 I am currently an undergraduate student from Hillsborough, New Jersey, studying art conservation at the University of Delaware (UD). I have previously interned at UD's University Museums and at the Historic Odessa Foundation in Odessa, Delaware. I currently work as a research assistant at UD's Center for Historic Architecture and Design, or at least when I'm not thousands of miles from the East Coast!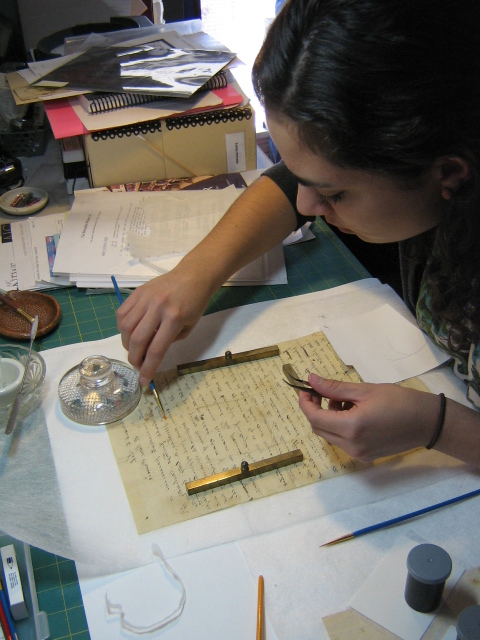 Nicole and I have begun treating artifacts in the collection, including two automaton manikins, a mounted ram's head, an arch made of wood burl, a brass cash register, and a copper still, among others. Stay tuned here for updates on this conservation project throughout the summer, including a variety of artifact treatments as well as a hike on the Chilkoot Trail and a series of public workshops.