As our summer progresses here at KLGO in Skagway, AK, Katie and I have been working extensively with the Rapuzzi collection and the wonderfully bizarre creations of folk artist and 1930s Alaskan tour guide extraordinaire, Martin Itjen. We have definitely encountered the most interesting mixed-media artworks that either of us has encountered thus far in our museum experiences. Some of the most memorable have been Lady Lou, a life-size automaton mannequin constructed from found objects with an interior pneumatic air valve-allowing the figure to produce sound; the Ram's Head, a hybridized taxidermy mount/ plaster sculpture with light-bulb eye sockets, and Dangerous Dan McGrew, another one of Itjen's animatronic mannequins who went for a little ride to the local clinic to get X-rayed.
I really would never have expected to run into something like the piece made by Itjen that we call "the Ram's Head."  It's a unique artwork with two Bighorn sheep horns (with attached pelts) affixed into a plaster bandage-cast animal form.   Additionally, Itjen wired an interior electrical system whose original function was to illuminate the two filament bulbs inserted into the eye sockets of the cast animal's head.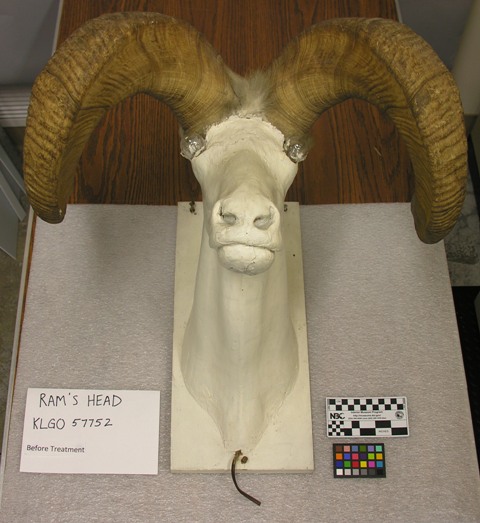 The treatment for this artwork was relatively straight-forward, however, the decision-making behind recreating the illuminated filament bulbs was not a linear process. Ultimately, it was decided that having the bulbs lit was a very important element of the Ram's Head; one that was essential to the artwork's identity and to the artist's original intent. With help from NPS's own Scott Logan, a custom LED light system was fabricated and installed onto the mixed media animal mount so that it once again has those glowing (and somewhat creepy) illuminated eyes.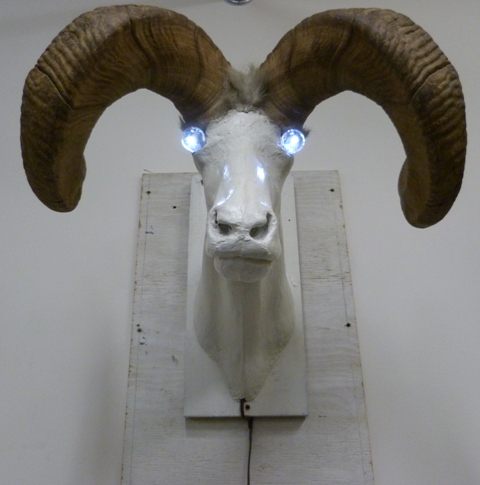 è

Lady Lou was definitely a lady of mystery to us this summer. Her treatment involved some minor fills, in-painting, and surface cleaning; but the procedure that really initiated some interesting discussion concerning conservation ethics was whether or not to remove all of her textiles. On one hand, keeping the original garments would be preserving as much historical context as possible. On the other hand, the textiles were in very poor condition and were badly stained and contained substantial silk shattering. But if we used a reproduction garment, would the historical context of the piece be lost or misrepresented? Would this intervention ruin the artist's original intent?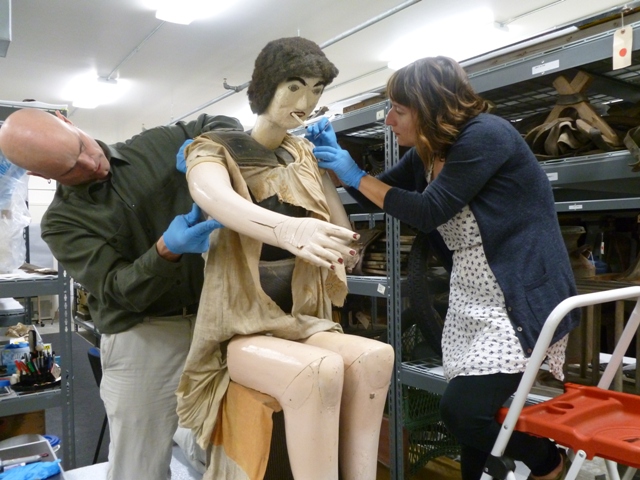 In the end, the park's curator Samantha Richert asked us to remove the garments so that they could be kept safe inside an archival storage box.  Her decision was based on recommendations provided by Alaska State Museum conservator Scott Carrlee, Katie and myself concluding that if these tattered garments were to remain on the mannequin their preservation would ultimately be jeopardized by their extremely unstable state. Not to mention that Lady Lou's torso is made from car tires; a petroleum-based product that would continue to off-gas and stain her original garments.  Katie's sewing and textile experience really came in handy and she whipped up a great Marvelseal vest for Lady Lou to wear so that the off-gassing could be minimized on the reproduction garments that will be installed.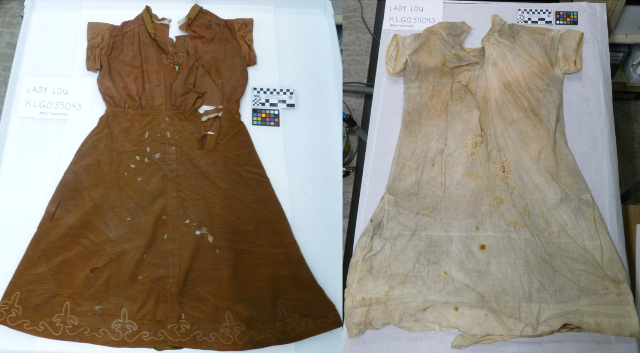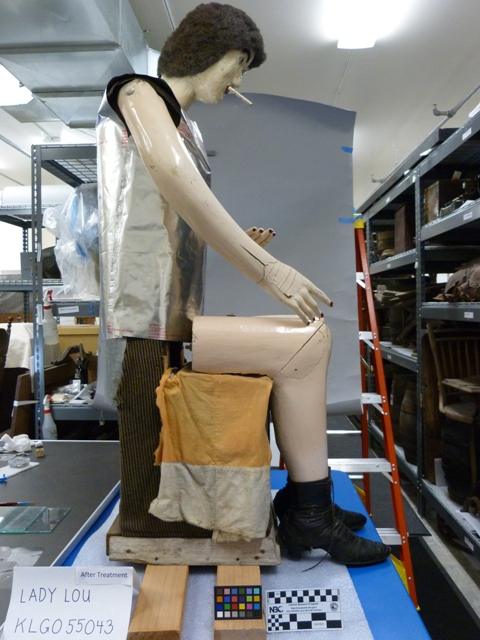 And finally, we have Dangerous Dan McGrew, who took us for quite a ride this summer.   Our internship started with taking him for a ride to the Dahl Memorial Clinic here in Skagway. The intent was to have him X-rayed so that some light could be shed on the components of his interior mechanism.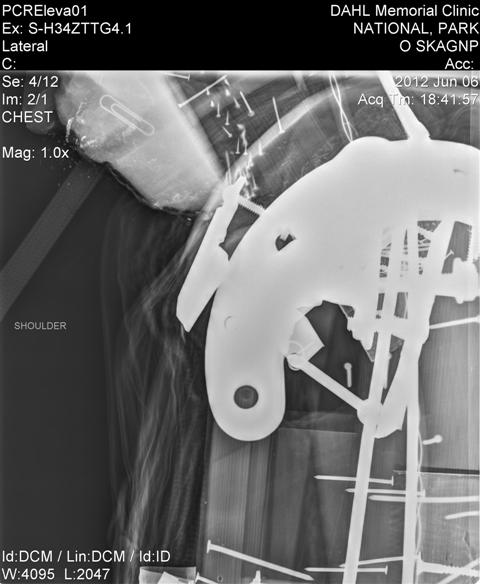 This procedure told us more about the materials Itjen used in these automaton mannequins and also how the figures moved. After dissecting the X-rays, Katie and I have been making some preliminary diagram sketches and trying to figure out what exactly Itjen used to rig these complex mechanical systems. We know Itjen used a pneumatic air valve in both Dangerous Dan and Lady Lou to create a vocal component, and we also know he loved to use filament bulbs as eyes. Day by day Katie and I continue to piece together the mechanical wizardry of Martin Itjen.
èI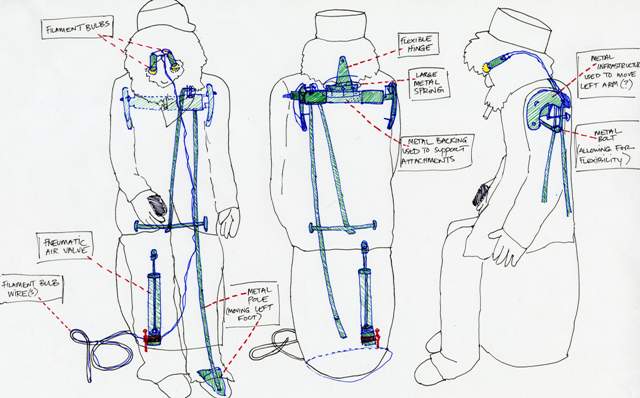 All of these artworks present a number of questions and ethical concerns in the field of art conservation. What is the treatability of all the diverse media within the piece? What interventions are necessary for the piece to function aesthetically? How much is too much? Luckily, Katie and I have had great support and guidance from the park's curator, Samantha Richert, and technical support from conservators Scott and Ellen Carrlee from the Alaska State Museum, who helped us with these sometimes very difficult questions and decisions. The treatments that Katie and I have worked on this summer have been challenging, but also very rewarding; at the end of the day, I think Martin Itjen would be proud of the efforts we have made this summer to bring his fascinating creations back to life.