Hi, my name is Liz Blakeley and I am one of the law enforcement rangers here at Klondike Gold Rush National Historical Park. I am also one of the newest bloggers for our website. I'm hoping to fill you in on what a law enforcement ranger in Alaska does. The quick answer to that is, a lot! 

While we wear the same uniform as Interpretive and General Rangers, we have some additional duties. We provide law enforcement, emergency medical, fire and search and rescue services to the park and the surrounding community. We also frequently participate in community outreach by assisting with school programs, seasonal employee orientations, bear awareness training, and much more. On top of that, we do whatever is needed. (Yesterday, I was lying in slush and ice changing a tire, just another day in the life of a law enforcement ranger!)

With all of these different hats we wear, it takes a lot of training to make sure we are knowledgeable and safe as possible while carrying out our duties. We participate in yearly week-long emergency medical technician refreshers, a four-day long rough terrain rescue refresher with our Canadian counterparts, as well as, a week-long law enforcement refresher. We also participate in many shorter trainings, but I won't bore you with the details.

The main purpose of my blog post today is to tell you about an exciting training opportunity that we were able to participate in with our local police department. The Skagway Police Department provides law enforcement services to the town of Skagway all the way up to the Canadian border. They are an integral part of our community. Because we are both small law enforcement operations, it is often times challenging to get enough officers and rangers together to do larger-scale trainings separately, so this October we joined forces for two days and participated in a Control Tactics and Firearms Refresher workshop.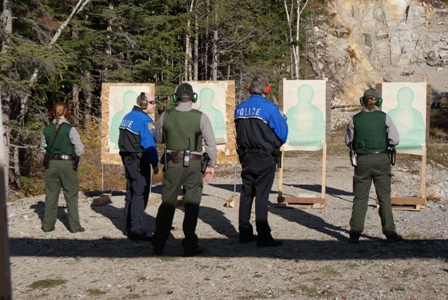 Klondike Gold Rush Rangers and Skagway Police Officers train together.


It was really great to get both agencies together and gain a better understanding of how we both operate. Simple things like how an officer approaches a scene can vary from agency to agency, not to mention officer to officer. Getting to know the officers you work with is invaluable and we're fortunate that we got this time to get to know each other better. With the success of this training, we're hoping to continue building these relationships and improve the public services that we provide to the community and lands that we jointly protect.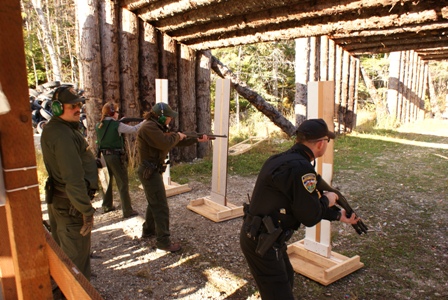 Instructor Chief Ranger Steidel look on while trainees shoot at the range.