As I delve into my second season working as a conservation intern here at Klondike Gold Rush National Historical Park in Skagway, Alaska, I have been greeted by many friendly and familiar faces. I've been having a great time reuniting with old friends; however, there are two faces in town I was not expecting to see so soon…
Before I formally introduce my two new friends, some words must be said about the scope of my project this summer. I have been assigned the task of treating and stabilizing the taxidermy specimens scheduled to be exhibited in the diorama within the Jeff Smiths Parlor Museum upon its opening in 2016. The original diorama Martin Itjen assembled was a uniquely curated collection of taxidermy specimens and oddities that encompassed some highlights of Alaska's wildlife.  Amongst the diverse fauna included in the diorama are my aforementioned new friends; two winter ermine taxidermy mounts.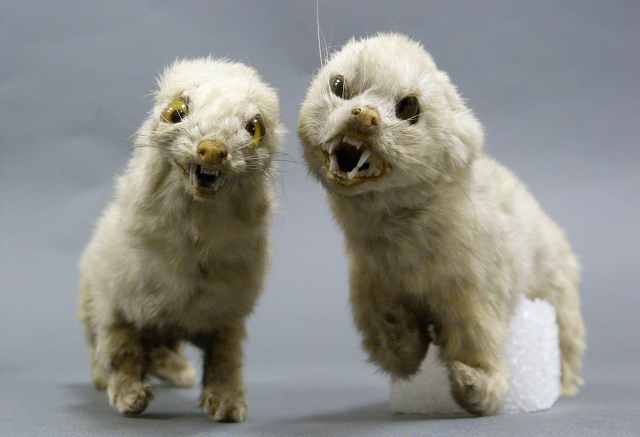 But these are not taxidermy specimens in the traditional sense, like the mounts used for biological study and display in natural history museums. The ermines, which are believed to have been prepared by local taxidermist Percy Colton in the 1930s, are curious little creatures with animated facial features and odd glass eye inserts. Their homemade construction and peculiar physiology is indicative of Itjen's preference for the sometimes odd and unusual. The interesting thing about the taxidermy specimens in Itjen's diorama is that their presence was more than just display for biological study. His selection of animals told a story: specifically, an Alaskan story that embraced the wonder and wildness of his adopted hometown, Skagway.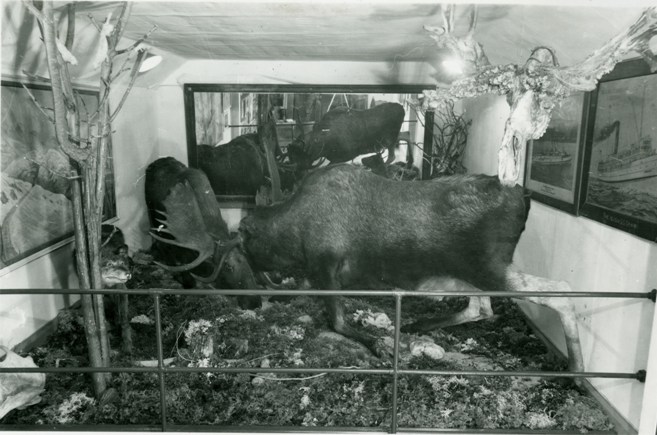 During my conservation training, I have been learning that approaching taxidermy specimens from a conservation standpoint requires keen observation and discerning caution.  Often times, taxidermy mounts have been treated with preservatives and pesticides. These toxic concoctions were often applied to pelts because their application functioned as both a tanning agent as well as an insecticide that helped preserve and protect the mount for a longer period of time.
Another aspect to consider is how the animal was mounted and what materials were used in its construction. In the case of the winter ermine, each specimen has an interior iron-wire armature bound with wood strands that are wrapped in different shapes and volumes to mimic bone structure and musculature; a method used amongst taxidermists around this time period. Below is an image from the Smithsonian Institution Archives illustrating this process. The photograph is of William Temple Hornaday, a turn-of-the-century revolutionary in the art of taxidermy, preparing a tiger taxidermy mount for exhibition by wrapping the skeletal structure with a fibrous material.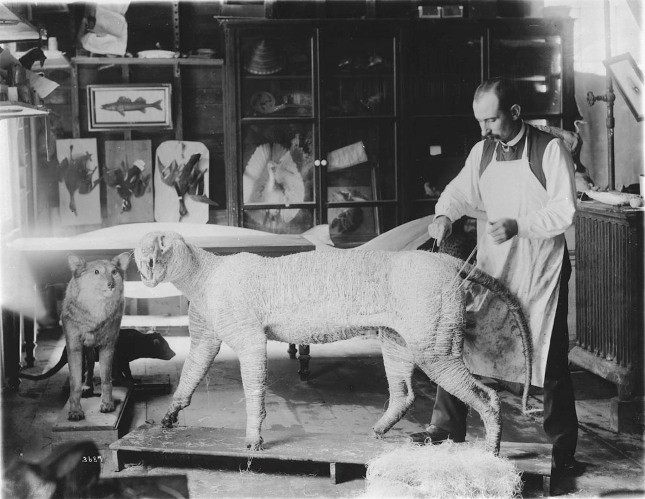 http://siarchives.si.edu/history/exhibits/documents/hornadayphotos.htm
Once a basic form had been achieved, the wood strips or fibrous material would have then been consolidated with a clay slurry or glue. While the consolidant is still wet, the pelt is fitted and pressed into the form and sewn together. These interior materials, as well as the properties and the condition of the pelt itself, help guide the route of conservation treatment each specimen receives. The wood fibers, iron wire, and acidic nature of cured hides and pelts discourage a conservation treatment involving wet-cleaning.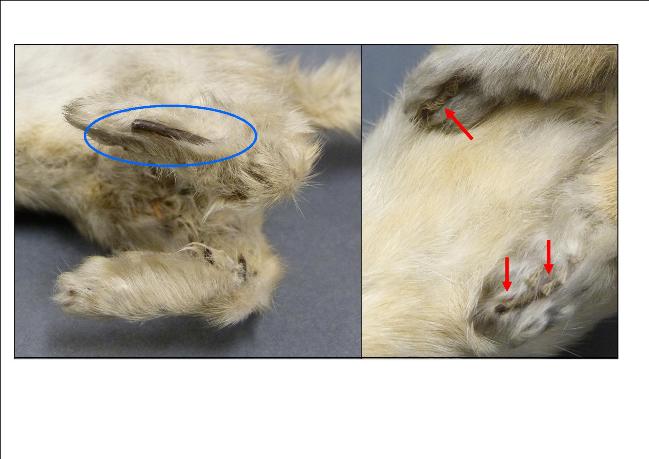 As a result, the ermines were gently dry surface cleaned and their fur was preened, neatened, and removed of any foreign debris. The goals of the treatment were to safely clean both specimens to remove harmful and unsightly dust and dirt and to fully document the ermines' current condition and the fabrication processes that were applied in their construction.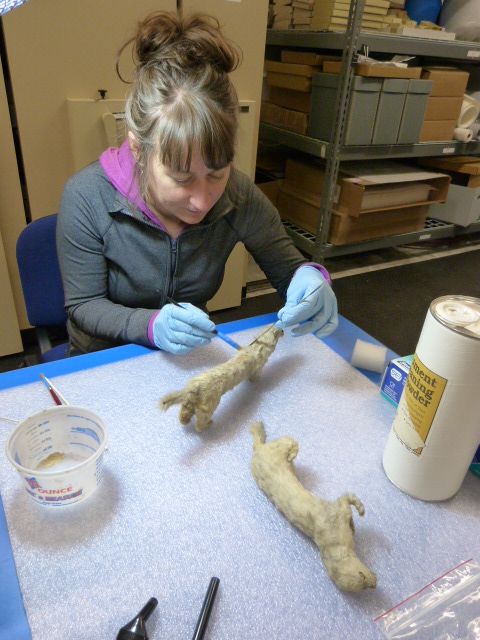 As my internship progresses here at KLGO, I anticipate working on some pretty magnificent and strangely wonderful projects. Future projects will include treating a few canine friends, two full-size horn-interlocked moose mounts, and one of Itjen's signature modified-taxidermy creations.  All of which will have their own nuances and histories that will continue to bring light to Martin Itjen and the Jeff Smiths Parlor Museum. 
Stay tuned for more adventures in taxidermy!