When I look outside and see Skagway's lush mountainside and green gardens, there is a certain satisfaction garnered from nature and growing things. The gardens are beautiful in their own cultured way, but untamed, the mountains, forests and wildflower meadows are reminders of greatness without and before humans. 
Usually a meadow looks fairly peaceful with flowers, grasses, and bugs buzzing, but given the proper lens to see them, they can be saddening.  With the invasion of certain plants, native flora are being choked out.  These new plants are quick growers, many blooming more than twice a season.  With large, tenacious roots, these plants have and upper hand over many of the more delicate native plants that grow in the same are.  Pictured below, toad flax is one of our usual suspects – an invasive flower plant from Northern Asia and Europe that was originally imported to North America as an ornamental and for folk remedies.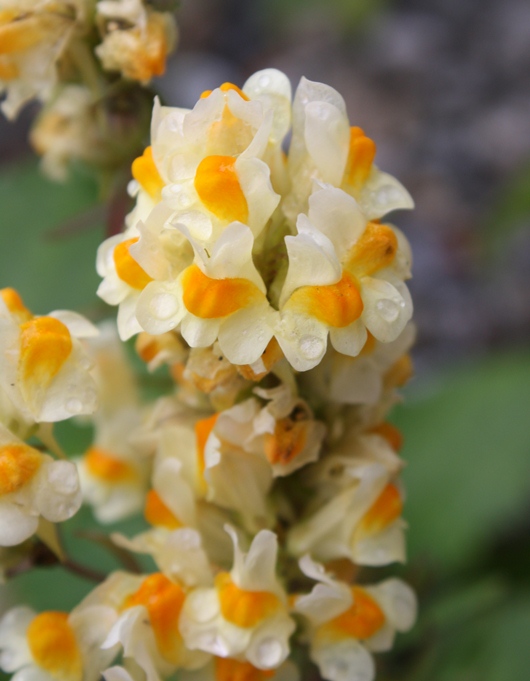 Recently, I looked out my front door and saw a huge strip of tall buttercup (Ranunculus acris)filling a grassy patch that used to be fireweed and a few native grasses.  The yellow of the buttercup was thick and overpowering.  After working with invaseives, that level of infestation makes you shake your head in disappointment.  What used to be a diverse field of greens, pinks, and reds had transformed into a solid yellow mass.   
Pictured below is another invasive that is affecting the flora along the Chilkoot Trail, reed canarygrass.
This grass was imported to the United States in the 1800s for forage and erosion control and has spread disruptively throughout the northern half of the United States and southern portions of Canada.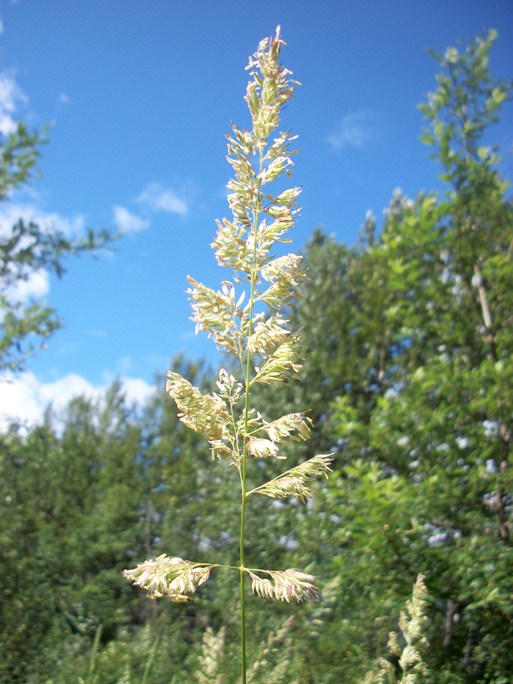 The fight against these exotics can be disheartening.  Even after handpulling, they often come back in force. A few roots missed can mean ten plants the next year.  If they seed before you can pull them, they will be thicker the next year.
However, there can a bright side to this situation. Just recently, our invasive plant intern, Ramsey Mauldin, and I were clearing a field of buttercup.  Midway through the half-acre patch, a woman walked up to us smiling. She explained that she was a regular camper from Yukon Territory and saw us pulling the buttercup.  Delighted, she went on to say how there were far more iris in the field than a few years ago and significantly less buttercup.  She knew the buttercup was invasive and had watched it slowly recede in the field while the presence of wild iris increased due to the efforts of the park's interns and volunteers.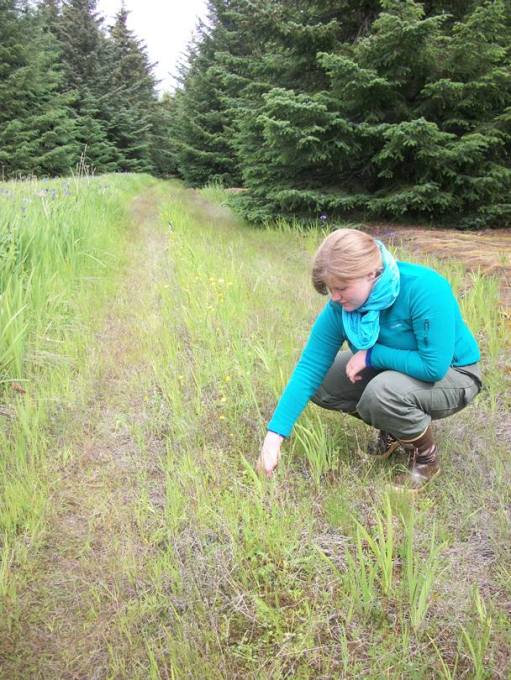 Ramsey and I were hugely pleased because that sort of affirmation from a casual observer is rare and treasured. Neither of us had personally examined the field in years past, so hearing a first-hand account of the difference our invasive plant control program had made over time was exciting. 
The involvement of the public in recognizing invasive plants is paramount to reclamation efforts. Trying to bring the problem of exotic plants into the public's vision and concern is one of the most important steps in fighting them.  The more that these invasive flowers, grasses, and trees are recognized, the better the chance that someone will pull them or not plant them in their garden unknowingly.  Everyone is welcome and encouraged to ask KLGO for assistance in identifying exotics.
Two other resources that may be of assistance are the University of Alaska-Fairbanks Cooperative Extension Service's information on invasive plants at http://www.uaf.edu/ces/aiswg/ and a simple plant guide available from Defenders of Wildlife at http://www.defenders.org/sites/default/files/publications/alaska.pdf.