If you've read earlier blogs about our conservation activities in the museum program at Klondike Gold Rush NHP, you might get the idea that artifact conservation is always a gentle process with cotton swabs and latex gloves.  Recently our museum staff took some conservation steps with a lot less finesse.  We accessioned four medium-sized metal artifacts that were stored outside for decades, and brought them inside to prevent further degradation.  Since the objects are metal, they are very heavy and required assistance from our Maintenance staff to get them cleaned and stored. 
The objects in question are a blacksmith's furnace blower, an induction motor, a rock drill and an industrial metalworking press.  They are all part of the George and Edna Rapuzzi Collection, which Klondike Gold Rush NHP is jointly processing with the Skagway Museum.  George Rapuzzi worked as a machinist for White Pass and Yukon Route railway, and there is a large variety of mechanical objects in the collection.  A number of these mechanical objects are quite large and unwieldy, including road compressors, early farm equipment, and blacksmithing equipment.  George stored these objects outside, which makes sense since they probably were pulled into their resting spots with other large machinery like trucks and forklifts.  One of my recent tasks was researching these objects and figuring out what to do with them.  We decided to retain a number of the larger objects since they fit within our collecting mandate, and the park is now working on figuring out a way to protect those objects.  In the meantime, we made room in the collection storage facility for the four smaller objects shown below.    
This process required the help of a Skidsteer, operated by Maintenance team members Scott Logan and Cory Thole.  It was quite an education for me, as I've never had to think too much about moving such heavy objects.  For example, as Scott operated the Skidsteer, Cory walked alongside to help minimize the risk of damage not only not only to the object but to everything around it. (Think of how a wrecking ball works!)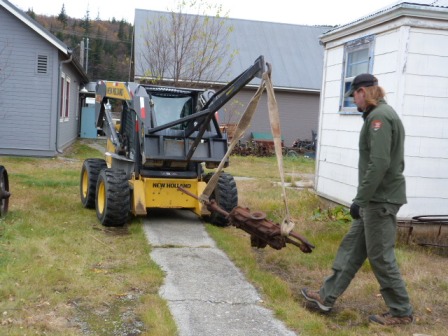 Scott and Cory set us up with compressed air and water access, so we had both dry and wet methods to clean off the artifacts.  We also used a green scrubbie and plastic brushes to get into the nooks and crannies. Though our museum technician, Deb Boettcher, usually cleans most of the artifacts coming into our collection from the Rapuzzi inventory, our intern Tekla Helgason and I joined her for this more extreme (and exciting) process.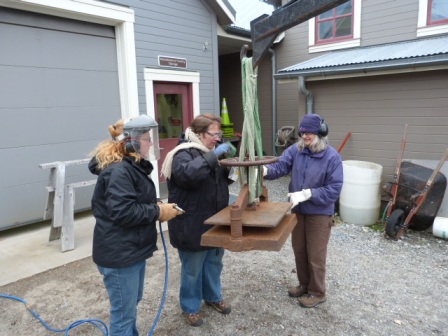 Scott and Cory have a scale for the Skidsteer, which allowed us to get weights on all of the objects.  Though the heaviest object was the induction motor at 474 pounds, the press weighed in at an impressive 316 pounds.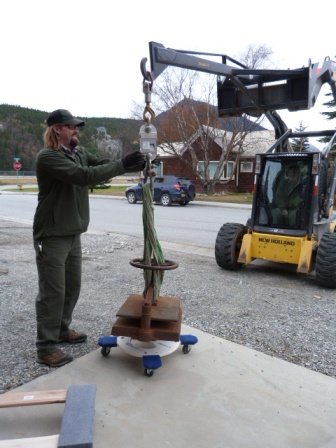 I had read about the negative effects of soil accumulation on outdoor objects, and found it vividly illustrated on the bottom side of the induction motor.  The coils of the induction motor had picked up not only soil but moss as well, and we turned to the awesome power of pressurized water to get it cleaned off.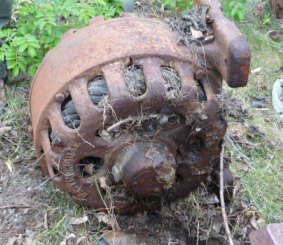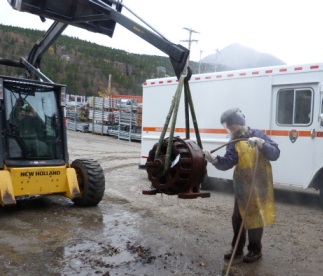 This last photo shows a great example of our final product - a historical artifact, clean and resting on archival foam.  Usually we pad artifacts to protect the objects, but we added the padding on the top handle after getting some pretty good bruises on our shins.

For us, it was a satisfying morning of preserving historical objects.  Though we've been able to date the objects to our historical period (1896-1915), we still have more research to do.  If you happen to know anything about historical induction motors, rock drills, metal-working presses, or furnace blowers, and you want to help us out, please drop us a note at our contact page, https://www.nps.gov/klgo/contacts.htm.