This summer the Dyea Flats Road is being restored;it's being built up and expanded in some areas. I'm here as an intern to work on this restoration project, my part in the project is to salvage native plants near the road that are within the construction limits. Then after the construction is over, I will replant the ones that I salvaged, with the goal of minimizing disturbance to the native ecosystem and wildlife habitat in Dyea.
The first week of my internship was spent in TerraSync Software and Geographic Information System (GIS) training. There I learned a bit about mapping things like trails and uploading them to Google Earth. I thought that this was pretty cool;I never knew trails were put into Google Earth. I had always thought you had to be a techy genius to do any of that. I was trained in doing it and now I can do it in a fairly efficient manner. I also learned how to make a map with the data I collected. I never knew that creating maps could be so much fun;it was amazing to see how one afternoon of just walking around with a Trimble GPS unit, pushing buttons, and standing for precise points, would translate into an actual product that can be used to find whatever it was that we mapped. With these new skills, I'm now able to go and map the restoration along the Dyea Flats Road. I can even put in points and polygons to show where and which native plants are growing inside the construction zone.
The first week of actual work was spent mostly in the field. We helped Shelby (one of the bio-techs in natural resources) with toad surveys. It was a lot of fun, we got to see Dyea, see some of the plants we would be working with this summer, and we found around 200 juvenile toads, more toads than I had ever seen! We also found two adult toads. We were only able to catch one for measurements. Kylie and Kriss, fellow interns working on the restoration project and invasive plant management, are pictured below during our toad survey with Shelby.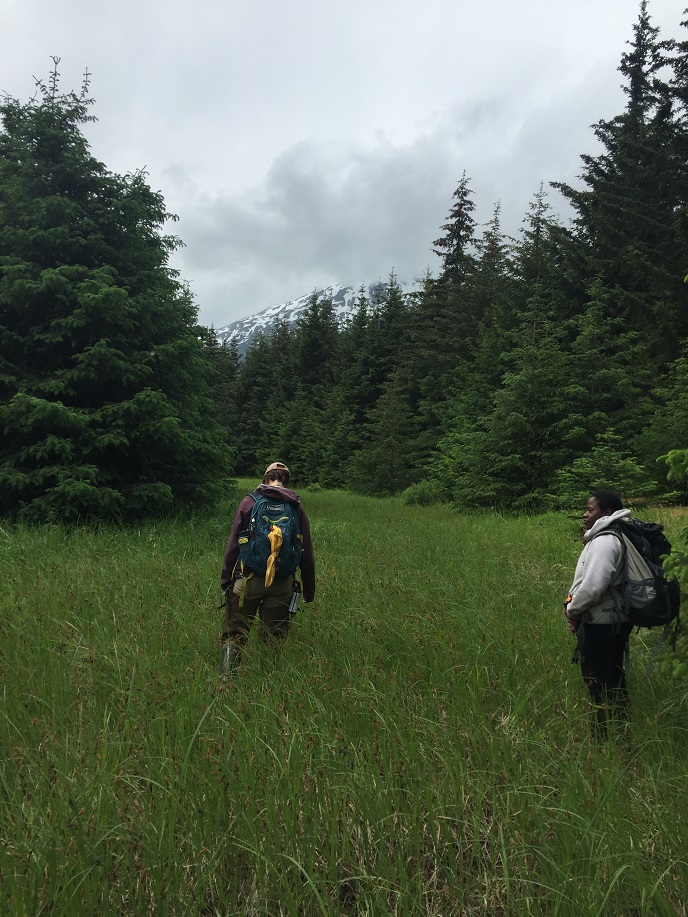 We also went with Jami (the natural resource program manager) to play around with the Trimble GPS unit and test out our data dictionary for our project. This was fun because we got to test our knowledge of the plants we'll be working with and we became huge plant geeks in a couple of hours. Pictured below is a plant that interested everyone in our group. It is a wood nymph, or also called single delight (Moneses uniflora).