Quincy Smelter Stabilization and Rehabilitation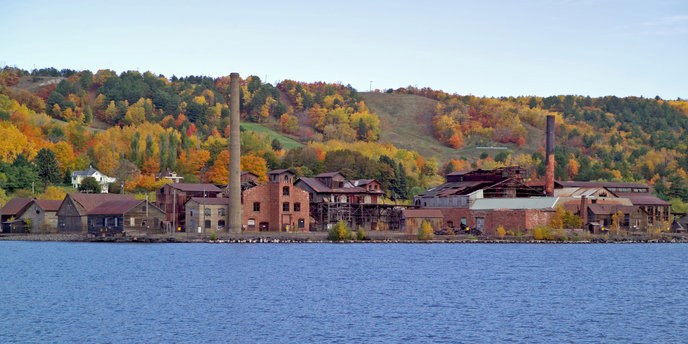 The Quincy Smelting Works, once a major component of the Quincy Mining Company holdings, is owned by Franklin Township. The smelter complex is unique in the country and, perhaps, the world in the number and types of 19th and early 20th century buildings and landscape features that survive.
The continued survival of these structures is tenuous. Preservation of the complex is proving challenging. Since the final shutdown of the smelter in 1971, little has been done to maintain it. Severe winters and neglect have taken a sizeable toll; some buildings have collapsed, others are nearly so. Franklin Township took on the property as a preservation-friendly owner, and has endeavored to find new uses for the historic complex, including simply opening it as a heritage attraction as part of Keweenaw National Historical Park.
In addition to being within the boundaries of both the national historical park and a national historic landmark district, the smelter is also within the Torch Lake Superfund Site. The U.S. Environmental Protection Agency has planned a remedy to address contaminants in the stamp sand soils: placing a new soil and vegetation "cap" on the stamp sands across much of the site, but leaving key historic features intact. The EPA has already removed asbestos contamination from the complex's numerous buildings, and the agency expects to have funds available to implement the vegetative cap remedy in the summer of 2010. More information…
In addition, the EPA has become a partner in the preservation of the smelter, working with Franklin Township, the National Park Service, the Michigan Department of Natural Resources and Environment, and others to look for historically compatible uses of the complex. In 2009, following public workshops sponsored by Senator Carl Levin, the EPA, NPS, and Franklin Township, a local steering committee formed to develop and implement a reuse strategy. The EPA published the results and recommendations of the community workshops in early 2010. You can download a copy of their report here.
The Quincy Smelter Steering Committee meets monthly. You can download a presentation describing the efforts of the committee here.
Last updated: March 16, 2018