Copper TRACES Registration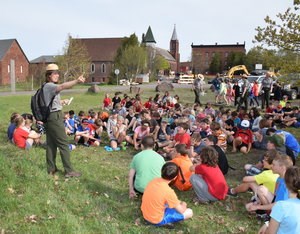 Fourth grade, split fourth grade, and fourth grade equivalent public, private, and home school students in the western six counties of the Upper Peninsula of Michigan are eligible to participate in Copper TRACES 2019. Teachers and parents are asked to sign up their class or group of students together.

Please download and read the Orientation Packet prior to Copper TRACES 2019, which includes:
General information about the field day

Station Descriptions
---
Accommodations for Students with Autism Spectrum Disorder

Read the "Accessibility & Accommodations" section of the Copper TRACES Teacher Orientation Packet for more detailed information about accessibility and accommodations for all students at the event.

Below are links to the strategies described in the Orientation Packet for students with autism spectrum disorder. Both of these documents are accessible.
Schedule - a general schedule of the field trip, including times and what activities will be taking place when. This will assist students with sequencing, making the events of Copper TRACES more predictable, and provide a structure for change throughout the event.
Social Story - a visual and succinctly written story about what students will be experiencing at Copper TRACES that can be read and understood prior to your visit. This social story includes actual photographs from past Copper TRACES events and is rooted in factual, firm, positive statements. Teachers and parents have the ability to change text and photographs to fit individual students' needs. After your class's stations are assigned, please email Katie Keller, Education Technician at kathryn_keller@nps.gov for photographs specific to your student's station assignments. Please create descriptions based off station descriptions in the Orientation Packet as appropriate.
Last updated: March 17, 2019