Trading Cards
Kids! Collect stories about the Civil War and civil rights! The National Park Service is offering more than 500 trading cards to mark the 150th anniversary of the Civil War. Visit a park in person to earn a card (sorry, cards cannot be mailed). Ask a ranger or stop by the visitor center at a participating park. You can view all the cards online and discover stories from nearly 90 national parks in 31 states and the District of Columbia. You'll be surprised at what you will learn.
Kennesaw Mountain National Battlefield Park offers a total of seven different trading cards: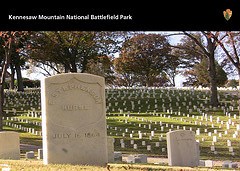 Emma Stephenson
Watching Over Her Soldiers Forever
Formerly enslaved Emma Stephenson served as a 17th Army Corps nurse. She fell ill while caring for white soldiers and later died. She was first buried at the Army Corps hospital, but was later interred at the Marietta National Cemetery with "her soldiers". Surviving soldiers who had received her care never forgot her kindness.
---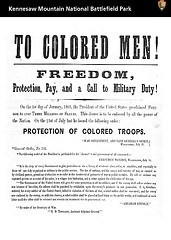 Austin Gilmore
Dying for Duty
Austin Gilmore, formerly enslaved from Tennessee, enlisted in the 111th Illinois Infantry to fight for freedom. A stretcher bearer, Austin removed bodies of wounded and dead soldiers during the Battle of Kennesaw Mountain. He was mortally wounded rescuing a soldier, died four days later, and was buried in an unmarked grave.
---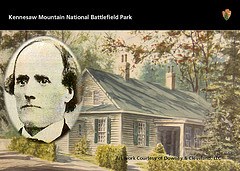 Henry Cole
and the Underground Railroad
New Yorker, business owner, and Union spy Henry Green Cole gathered information from free and enslaved blacks. He was known as the "most dangerous man in Georgia" and his home became a stop on the Underground Railroad. A tunnel led from his house into the woods that presently comprise Marietta National Cemetery.
---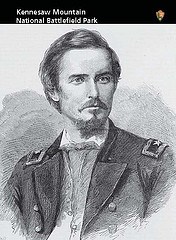 Colonel Dan McCook
From a Family of Fighters
Ohio's "Fighting" McCooks sent many of their sons to fight in the Civil War. Thirteen served in the Union Army, six becoming generals during the conflict. Colonel Dan McCook died at the Dead Angle at Kennesaw Mountain. In 1914, fifty years later, a monument to the McCook Brigade was dedicated near where he fell.
---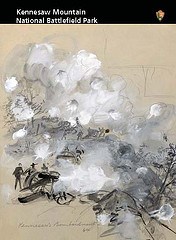 A Picture Speaks a Thousand Words
Combat artists' drawings were used to illustrate newspaper and magazine articles throughout the war. One of the most famous combat artists was Alfred Waud. His accurate drawings, like "Kennesaw's Bombardment, 64", helped people understand the horrors of war. Many of Waud's works were featured in the popular illustrated magazine Harper's Weekly.
---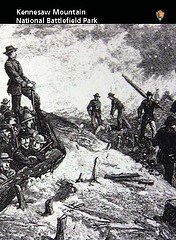 Fire on the Battlefield
A Humanitarian Act
During the savage fighting at Cheatham Hill, a small brush fire became a full blaze. The screams of wounded Union soldiers trapped by fire were heard above the roar of battle. Confederate officer Lieutenant Colonel William H. Martin waved a white cloth, ordering his men to stop fighting and help rescue the Union soldiers.
---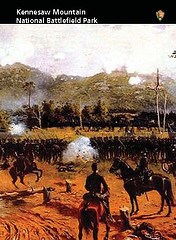 The Battle of Kennesaw Mountain
Delaying the Advance on Atlanta
In late June 1864, General Joseph Johnston's Confederate forces delayed the Union's advance towards Atlanta for two weeks. Fortunately for the Union Army commanded by General William T. Sherman, the delay was not enough. The fall of Atlanta on September 2 helped ensure the re-election of President Abraham Lincoln in November of that year.
---
Last updated: October 3, 2021