Field Trips
TREE Teacher Backpacks (Self-Guided Program)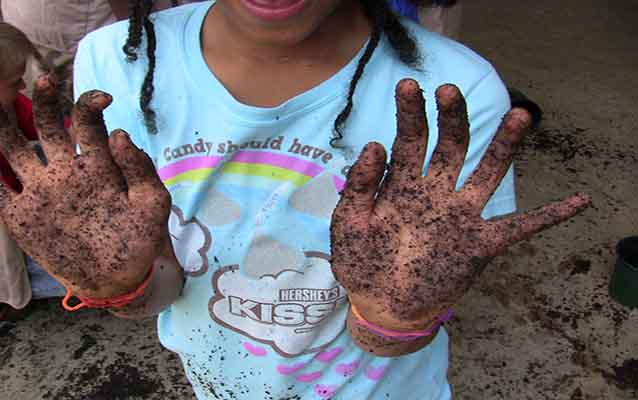 Description
Teachers' Resources for Environmental Education or TREE backpacks are designed to be used on Kennesaw Mountain Battlefield's 1.3 mile environmental trail loop, coordinating with the educational signs found along the trail route.
-
the backpack activities cover the following subjects:

Tree rings                  Animal tracks
        Habitats  Rock Identification
        Food chains              Creek construction
        Forest succession     Human impacts
                                             Conservation
Group Size: Up to 25 students. If you have a larger group, please divide your students into groups of 25, with at least two chaperones per group. Please keep the groups separated in order to respect other visitors who may be on the trail. Large groups of students can disrupt the natural experience for humans and other animals alike.

Program Length: The length of the activity is completely up to you! Teachers may select pack activities that best supplement what they are teaching; you may choose to do all or some of the activities in the pack. If all activities are completed, the program is approximately 1 hour long.

Teacher Prep:
         1. Encourage students to wear long pants and close-toed shoes. The environmental
             trail has many rocks, ranging from small stones to large boulders, tree roots, and 
             lots of fauna that might cause itching! Please be sure that your students are 
             dressed appropriately for the conditions;
         2. Please divide larger groups into smaller groups of 25 students;
         3. Be sure to have pencils and paper for your students, as some activities require   
             them.
What You Need to Know About This Program:

This program is free;
Hiking is required for this program and the trail is of natural terrain (dirt, roots, rocks, etc.);
You must complete and submit the registration sheet at least two weeks prior to your intended visitation date;
To see what dates are availalbe, please visit our online calendar.
Click here to return to the "Field Trips" section of the site.
Contact
Education Specialist
770-427-4686 x 0
Details
Subject:

Civil War, Education, Environment, History, Language Arts

Keywords:

environment, outdoors, activity, nature

type:

Field Trips