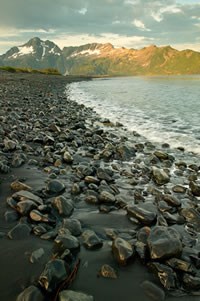 Choose a campsite wisely.
Avoid bear haunts such as salmon streams, berry patches or game trails. Avoid areas with fresh droppings or tracks. If possible, camp in areas with bear food storage lockers.
Make
food storage
your first priority upon arriving at camp.
Don't delay! Bears can show up any time, day or night. If you are not in an area with food storage lockers, use portable bear-resistant food canisters (BRFCs). BRFCs are available for rent from some local kayak companies or they can be purchased from a number of outdoor/camping related companies. Methods such as triple-wrapping in plastic or burying food in rocks or snow are ineffective and illegal. If you are planning to camp in the park's forested areas, you can hang food and other scented items at least 10 feet up and 4 feet out from tree trunks. This means that you will need to suspend your food between two trees, so bring plenty of line.
Keep a clean camp.
Cook away from your tent and take out only the food you need at mealtimes. Store the rest immediately. Wash your dishes. Avoid smelly food like bacon and smoked fish. Never sleep in the same clothing you wore while cooking. Food and garbage are equally attractive to a bear so treat them with equal care. Store garbage the same way you would food or burn it completely in a hot fire and pack out the remains.
Avoid using scented toiletries altogether – bears are prone to investigate unfamiliar scents and may be more interested in you if you smell like perfumed soap, deodorant or mouthwash.
Be bear aware.
If a
bear approaches
your camp while you have food and/or toiletries out, don't just abandon them. Try to scare the bear away by making loud noises. If possible, gather your food and store it properly or put it in your boat and get offshore. If a bear does get into your camp, you are responsible for cleaning up and packing out all debris. Remember the safety of the bear and of future visitors depends on you. Once a bear gets habituated to human food, it becomes a danger to other visitors and will likely be destroyed.
Report all bear encounters or problems to a park ranger. Rangers on the coast can be contacted on marine VHF channel 16. If you cannot contact a ranger in the field, be sure to stop in at the information center in Seward when you return from your trip.
Treat your drinking water.
Untreated water may contain Giardia, which presents serious health risks. Be sure to boil water for one minute, treat with iodine tablets or use a water filter.