Bear Glacier Outburst Flood
Glacier lake outburst floods (GLOF's) occur when water that has dammed up behind, below, or inside of a glacier is rapidly released. These events are not uncommon in Alaska and are known to occur regularly (annually, biennially, or triennially) at several locations on the Kenai Peninsula including Bear Glacier located in Kenai Fjords National Park. During a GLOF, down-glacier flooding from water discharged from an ice-dammed lake increases over a period of a few hours to days followed by a decrease to normal water levels.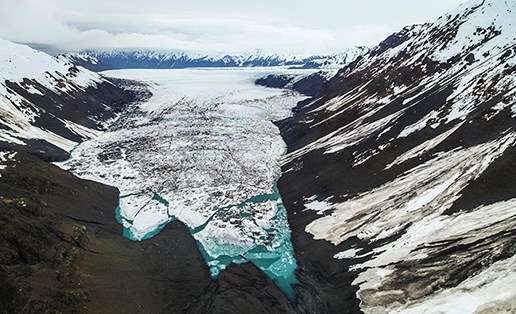 A Recurring Hazard

Bear Glacier's GLOF has been documented several times in the past decade, often draining during the month of August. What triggers these events is not fully understood, but is a combination of lake level, snowmelt, and glacier structure. This event results in a rapid increase in water surface levels in Bear Glacier Lagoon at the glacier's terminus. Visitors in the area should be aware that water levels could rise unexpectedly, flooding their camp and possibly floating away kayaks and other water vessels that are not well secured.
On August 15, 2014, an outburst flood at Bear Glacier raised the water levels in the pro-glacial lake and breached the moraine separating this waterbody from the mouth of Resurrection Bay, resulting in a series of standing waves extending from the moraine almost 2 miles out to Callisto Head. As water exited the lagoon through the newly breached outlet, lagoon levels dropped 1-2 ft below normal levels, prompting increased calving activity at the terminus of Bear Glacier. The channel of the previous lagoon outlet was left dry.
Current Status - July 2015
Recent overflights of the source lake indicate that it is full and thawing quickly from recent warm and sunny weather. While there is no instrumentation that allow us to know or predict when a GLOF will happen, we will be installing timelapse cameras at the source lake and Bear Glacier terminus lake to better understand these events when they do happen. We recommend that visitors to the Bear Glacier area be aware that GLOF's happen with no warning and we recommend taking precautions to camp on higher ground and secure watercraft.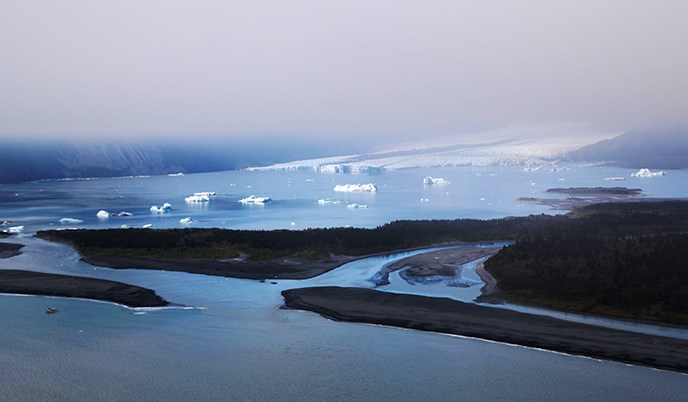 Last updated: July 7, 2015