Park Programs

Ranger-led Programs
Type
Time
Length*
Bird Walk (Sunday Only)
8:00AM
90 minutes
Garden Walk
9:30AM
45-60 minutes
Group Tour (Large groups only,

reservation required

, see below)
10:00AM
Up to 90 minutes
Garden Walk
2:00PM
45-60 minutes
Group Tour (Large groups only,

reservation required

, see below)
2:30PM
Up to 90 minutes

*Length varies based on group size and weather conditions, not tour content.
What should I expect?
In each ranger-led program, visitors will learn the special significance of Kenilworth Aquatic Gardens to the District of Columbia. Programs will take place over a 1.5-mile route and visitors should be prepared to stand and walk in both sunny and shaded areas and on unpaved trails. We recommend that you bring water and plan according to weather conditions and time of year. Tours are offered year-round and will focus on park history as well as wildlife found along the Anacostia River and flowers blooming during that season.
Our peak bloom is July-August. Water lilies begin blooming in May and will open and close daily based on temperature and weather. Lotus bloom in late-June through July and open and close daily based on temperature and weather. Both water lilies and lotus blossoms will close daily before 2:00PM.
How do I make a group reservation?
Examples of groups include schools, camps, garden clubs, bus tour companies etc. Groups in need of special accommodations are also suggested to arrange their visit in advance. The reservation process must begin at least two weeks before your intended visit as date and time availability is first come, first serve. To reserve a group tour at Kenilworth please call (202)-692-6080.
Who can attend a group tour?
We aim to provide the best experience possible for each visitor to our park so only those groups who have made a reservation in advance can attend group tours. Conversely, regular tours are not designed with groups in mind and groups will not be accommodated without a reservation.
Can I walk the gardens on my own?
Whether or not you choose to attend a ranger-led program, visitors are encouraged to explore the park on their own. A visit to the park typically lasts two hours during which time you can learn the history of Kenilworth inside our visitor center, view the restored marsh and native vegetation from our boardwalk, and take a leisurely walk around the ponds. Visitors are welcome to bring binoculars and cameras to use during their visit but are not allowed to take or touch any of the natural resources including lotus seed pods, turtles, plants, fish etc.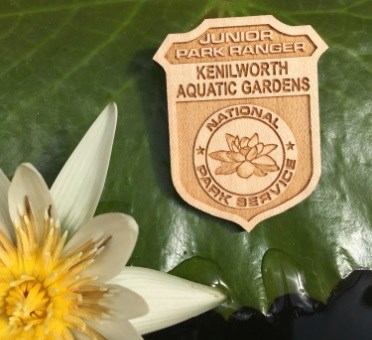 Junior Ranger Program
Get your Junior Ranger booklet at the visitor center and explore the park through crossword puzzles, picture games, scavenger hunts and more while learning about aquatic habitats and the National Park. Complete and turn in to the Ranger at the visitor center for your Junior Ranger badge!
Last updated: July 19, 2019