Gardener's Corner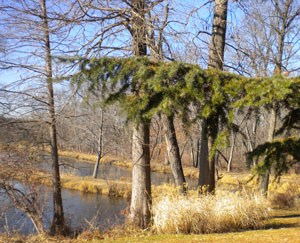 Kenilworth Aquatic Gardens is managed as several areas. There are the historic ponds, the wetland that surround the ponds, and field areas. Our goal is to keep different needs in balance so no area suffers. In historically cultivated gardens we maintain exotic plants. In natural areas we preserve plants here before people arrived. We encourage our visitors to manage their landscape in balance with the needs of biodiversity.

Each year the US and other countries spend millions of dollars and volunteer hours removing plants and animals that destroy biological diversity. Many, if not most, are non-indigenous species brought here on purpose or unknowingly. Generally, indigenous plants and animals here were part of a balanced system of living and nonliving elements such as plants, animals, fire, precipitation, wind, and soil.
Non-indigenous species have the potential to disrupt that legacy of balance. Invasive plants often change soil chemistry which determines what can sprout or grow. They may produce huge numbers of seeds or eggs which no wildlife here eats. They spread in a variety of ways. Over time, they are expected by biologists to reduce the global biological diversity, one local area at a time. These local systems provide options for survival of local communities including humans. You can reduce the cost of removal of invasive species on public land by building your landscape around indigenous plants that support indigenous animals for your area. Use of indigenous plants also provides host and habitat species for indigenous insects, birds, and other species to reduce a loss of overall species in the area.
Last updated: June 9, 2021