Self Guided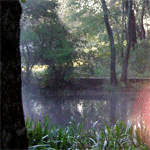 A Watershed Park, Chesapeake Bay Experience
There are two primary habitats here for study, the ponds and the wetlands. There is also river access associated with the riparian wetland area.
Keep in mind there is no netting or trapping animals or plants in the park. Several species use the ponds as habitat and live a the bottom of the pond. Throwing rocks in the ponds may injure or kill them. Please don't allow it.
Each of the programs below provide background information, pre and post visit activities and a guide to use the park. You don't need a reservation or ranger for these programs.

Cycles of the Nacotchtank combines history of the pre-Columbian people here, the social studies objective of sustainable cultures, and cycles into one program. This program in the park takes about an hour.
Pond ecology is perhaps the basic program that the park has potential for. This is a good program for early learners to begin understanding habitats and adaptations in nature.
Wetlands is better suited to students forming judgments based on research in the literature and in the field. There are lots of links to support material in the directions for this program. Expect to spend at least one class in preparation and an hour in the park and part of one class in post visit discussion.
Last updated: April 10, 2015