Coasts & Shoreline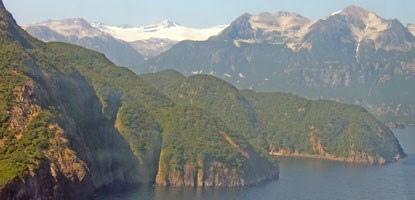 Separated from the rest of the park by the Aleutian Range, Katmai's eastern coast is a spectacular wilderness area ranging from narrow fjords guarded by bald eagles to broad coastal flats monopolized by clam-digging bears. High glaciers such as Hallo and Douglas lie enthroned on rugged mountains with their silty rivers reaching down to the ocean. Islands within five miles of the coastline are part of the park and are prime areas to see seabird colonies, harbor seals, and Steller sea lions. Coastal visitors can also watch threatened sea otters foraging for invertebrates in many bays.
The 497 miles of the Katmai coast encompass an array of habitats, including salt marshes, sedges, mud flats, gravel beaches, sand beaches, rocky shorelines, alder thickets, and salmon berry bushes. Wildlife thrive in the various habitats and wolves, foxes, harlequin ducks, cormorants, and kittiwakes are fairly common.
Both salmon and brown bears are also plentiful on the coast and a large number of streams support extensive salmon runs during the summer. Teeming with fish during the peak of their runs, the salmon streams attract a host of bears. Numerous bears also graze on the extensive sedge meadows found in some of the bays during early summer.
The uninhabited Katmai coast belies the rich cultural history of its past. Ancient travelers left the remains of their campsites along this coast 8,000 years ago, and were followed by a long series of resident Native cultures, hunters, trappers, traders, travelers, priests, scientists, and fishermen. During the recent 20th century, commercial clam canneries were among some of the human enterprises to leave their mark on the Katmai coast.
Although the Katmai coast is fairly remote, it is possible to access the coast by plane or boat. Coastal bear-viewing and sport-fishing opportunities are plentiful through commercial operators based primarily in the towns of Homer, Kodiak, and King Salmon.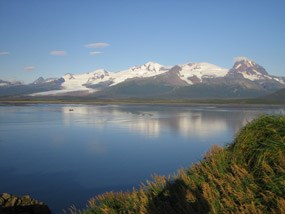 Last updated: April 14, 2015