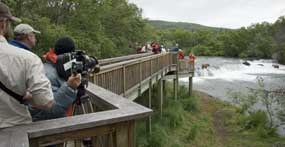 The policy of National Park Service (NPS) is to allow commercial filming and photography when it is consistent with the protection and public enjoyment of park resources.
Commercial filming defined as …"filming that involves the digital or film recording of a visual image or sound recording by a person, business or other entity for a market audience. This includes recordings such as those used for a documentary, television or feature film, advertisement or similar project."
Katmai National Park & Preserve requires a permit for all commercial filming within the park to ensure protection of the park's cultural, historic, and natural resources. Applicants who are granted permits are those who complete prior research on the park, its environment, and logistical considerations. Permits are not guaranteed and you should wait for final approval before making plans for travel and accommodations.
Much of the background information you need to know can be found elsewhere on the Katmai National Park & Preserve website, or you can e-mail us. The commercial filming/photography guidelines for Alaska national parks are also a helpful reference.