Commercial Film Permits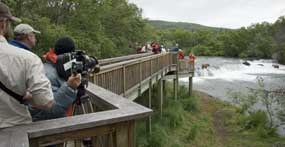 The policy of National Park Service (NPS) is to allow commercial filming and photography when it is consistent with the protection and public enjoyment of park resources.
Commercial filming defined as …"filming that involves the digital or film recording of a visual image or sound recording by a person, business or other entity for a market audience. This includes recordings such as those used for a documentary, television or feature film, advertisement or similar project."
Katmai National Park & Preserve requires a permit for all commercial filming within the park to ensure protection of the park's cultural, historic, and natural resources. Applicants who are granted permits are those who complete prior research on the park, its environment, and logistical considerations. Permits are not guaranteed and you should wait for final approval before making plans for travel and accommodations.
Much of the background information you need to know can be found elsewhere on the Katmai National Park & Preserve website, or you can e-mail us. The commercial filming/photography guidelines for Alaska national parks are also a helpful reference.
Do I need a commercial film permit?
You will need a permit if you answer yes to any of the following questions:
Is your production a documentary, feature film or television show for a market audience?
Are you filming to collect stock footage for a current or future documentary, feature film or television show?
Will your production be used to promote a business, or a commercially available product?
For still photography: Are you using models, props, or requesting to photograph or film in areas normally closed to the public?
Will I need to complete a Wilderness Questionnaire?
You will need to complete a Wilderness Questionnaire if your proposed production takes place in either designated or eligible wilderness. You can
request a copy of this questionnaire
from the film coordinator office at katm_dispatch@nps.gov.
Deadlines for permits
To help protect park resources and to assist commercial film applicants as comprehensively as possible, permit deadlines have been established. Please note that all permit fees need to be paid and all initial paperwork completed before the permits will be considered. (See permit information below.)
It is highly recommended to start the permitting process early as practical.
Starting January 2018, permits and associated fees must be submitted at least 60 days in advance.
There are two types of applications:
Form 10-931 is the short application. This can be used when the production is 1-2 days in duration with cast and crew fewer than 5.
Form 10-932 is the longer application. This must be used when the production is more than 2 days in duration, requires multiple locations, and utilizes talent and/or cast/crew/support staff is greater than 5.
Location fees as well as cost of recovery fees will be charged. These fees are dependent on the size of the production and the number of days filming takes place in the park. Payment forms can be found on pay.gov for filming location fees and filming permit fees.
Special stipulations for commercial filming at Katmai include (but are not limited to):
Group size cannot exceed 15 people total (12 total for Brooks Camp)
Backcountry camping restrictions are 14 days in any one location and food storage and human waste removal requirements must be met
Brooks Camp campground is available only by reservation and stay limits are imposed throughout the summer
Same rules apply to commercial film groups as apply to park visitors. See the rules and regulations on the Katmai Webpage www.nps.gov/katm.
Government facilities (buildings, vehicles, networks, electricity, etc.) cannot be used in support of commercial operations
Helicopter use requires a separate permit
Drone use is not permitted
Filming at Brooks Camp
Brooks Camp is a very popular place for both park visitors and film crews. Due to limited facilities, impacts to the park visitor's experiences are taken into consideration when commercial film permits are being evaluated.
Other things to take into consideration if you are thinking about filming at Brooks Camp:
Lodging and other overnight facilities are usually booked far in advance.
July is the busiest time of the year and film productions will have a large impact on the visitor experience.
Film monitors are required to minimize interference with visitor activities, and the cost of the monitor is the responsibility of the production company.
Due to limited space on the Falls Platforms, no tripod use is permitted during from mid-June to mid-August, and the NPS reserves the right to restrict tripod use during other periods of time.
*Commercial Filming in the Katmai Wilderness
Katmai National Park and Preserve is 85% congressionally designated or eligible wilderness, so if your proposed production is outside of the Brooks Camp Area, there is a very good chance that you will be filming in the park's wilderness. Commercial activities that take place in the Wilderness are thoroughly vetted to assure that Wilderness character and values are protected. In addition to the commercial film permit application and associated fees, a Wilderness Questionnaire must be submitted before your project will be evaluated. It is highly recommended that you educate yourself about Wilderness character and values as commercial activities occurring in the park's Wilderness are required to show that they are appropriate and necessary for the administration of the Wilderness.
We recommend that, before you consider the Katmai Wilderness as a possible location for your film project, you review What Is Wilderness?, as well as visiting the free trainings offered by the Arthur Carhart National Wilderness Training Center, before submitting your application and non-refundable application fees.
Last updated: December 1, 2018