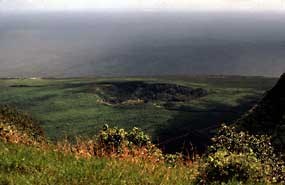 Geology of Kalaupapa
Surrounded on three sides by rough ocean waters and cut off from the rest of Molokai island by 1,600 foot cliffs, the Kalaupapa Peninsula has always been one of the most remote places in Hawai'i. These features made Kalaupapa an ideal location to isolate Hansen's disease patients. The formation of the peninsula itself took hundreds of thousands of years to occur, and did so through many episodes of volcanic and geologic activity.
Learn more about the geologic events that created Kalaupapa peninsula.