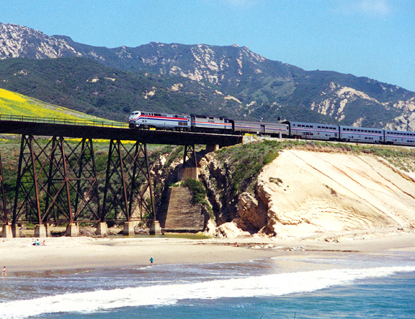 News Release Date:
April 8, 2014
Contact: Hale Sargent, 415-623-2344
Download the 2014 Trails & Rails schedule for the Coast Starlight in California
This summer, take a scenic ride through the history of California on board the Amtrak Coast Starlight. 
Volunteer Trails & Rails docents from the Juan Bautista de Anza National Historic Trail will be in the observation car interpreting the scenery along one of America's most beautiful train routes. 
Trails & Rails is a partnership program between the National Park Service and Amtrak. The Anza Trail is one of about 20 National Park Service units around the country with an active program. 
Docents board weekend trains between Santa Barbara and San Jose. The Coast Starlight's route skirts the same coastline encountered by Juan Bautista de Anza and the colonists who accompanied him to San Francisco in 1776. 
In addition to sharing information about the Anza Expedition and its legacy, the docents point out features of the natural landscape and recount tales of more modern history, including the site of a rare Japanese submarine attack on the U.S. mainland during World War II. 
"You have to take this train," docent Ed Leska says. "You'll see everything that makes California – agriculture, cattle, wine. Plus you learn something new." 
Many of these dedicated volunteers' years with the program pre-date their affiliation with the National Park Service. The South Coast Railroad Museum in Goleta, Calif., developed the docent program in the mid-1990s. Because of the route's proximity to the Anza Trail, it was folded into the national Trails & Rails program in the early 2000s.

The museum and its executive directory, Gary Coombs, PhD., continue to manage the docents through a cooperative agreement with the Anza Trail.

The volunteers' impact is profound. In 2013, the 27 Anza Trail docents engaged with more than 39,000 Coast Starlight riders. Their 2,000 hours on the train accounted for more than 10 percent of all Anza Trail volunteer hours that year.

For more information about the Trails & Rails program and a list of participating parks, visit https://www.nps.gov/trailsandrails