Traveling Trunk
The Anza Trail: An Educational Discovery Trunk for Santa Barbara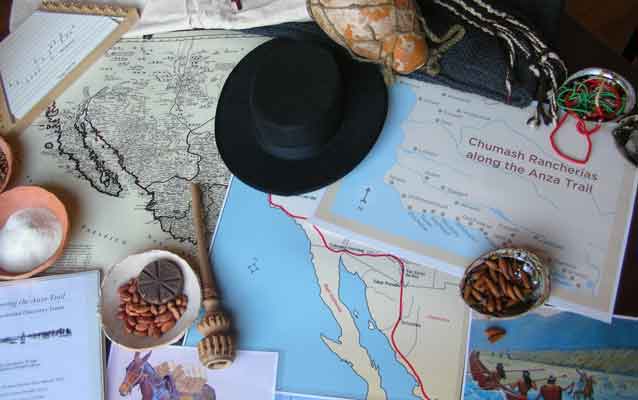 Serving classrooms in Santa Barbara, the "Following the Anza Trail" Traveling Trunk is a teachers' resource offered by the Santa Barbara Trust for Historic Preservation's Education Department and the Juan Bautista de Anza National Historic Trail.

Goal
The trunk's contents and lesson plans will give students a comprehensive understanding of the 1775-1776 colonizing expedition led by Juan Bautista de Anza. Students will learn about the people, landscape, and style of life on the Anza Trail through the items in the Anza Expedition Trunk. Students' involvement with the trunk will help them learn using auditory, visual, and kinesthetic learning styles.
Objectives
Students will understand that Alta California was once considered the frontier of Spanish civilization 
Students will understand the diversity of the expedition members
Students will learn about the role Native Americans played in the success of the expedition
Students will learn vocabulary associated to the Anza Expedition
Relevance to the Classroom
CA Standard 3.2.4
"Discuss the interaction of new settlers with the already established Indians of the region."

CA Standard 3.3.3
"Trace why their community was established, how individuals and families contributed to its founding and development, and how the community has changed over time, drawing on maps, photographs, oral histories, letters, newspapers, and other primary sources."

CA Standard 4.2.3
"Describe the Spanish exploration and colonization of California, including the relationships among soldiers, missionaries, and Indians..."

Organization
This trunk packs significant information about the Anza Expedition into a small space. The objects in the trunks are grouped into themed sacks illustrating broader or more regionally specific narratives of the expedition. These are accompanied by brief background information and questions for discussion. Each trunk item has attached description pages. These pages give you more information about that item. Many contain questions that you can ask your class to facilitate conversations and critical thinking strategies. If you have classroom helpers, create stations for the students to learn about different items individually or in the themed groupings. In these ways we hope to make history fun and interesting for your students!
Unpacking and Set-up
Some of the items in the trunk need careful handling. Special care should be taken in unpacking, handling, and re-packing the following items:

Chumash artifacts (bone awl, chert bifaces, mano and mortar, moon snail shell): While these objects are replicas and not actual artifacts, they are made of natural materials that can break or crumble easily. The bone awl and the chert bifaces have sharp points and edges, and are best used to demonstrate the activities of punching holes and cutting or scraping hides. The adult demonstrator should be the only person handling these particular objects. Children should look closely, but not touch. If you choose to remove any of the objects from their box, please take care to re-pack safely.

Psalterio (psaltery): This instrument comes without a case, in the box provided by its manufacturer. Care should be taken to re-pack the object facing up, so that its strings are not pressed against the surface of the box. Please do not heavy objects on top of the psaltery.
 
Shallow clay dishes and abalone shells are provided for setting up loose or small objects for display. A small quantity of food items, like beans, pinole, and chocolate, may be displayed in the dishes. The abalone shells were actually used as vessels and dishes by the Chumash, and would be appropriate for displaying items like acorns, asphaltum, and trade beads.

Other Trunk Contents
Acorns
Asphaltum (tar) pieces
Clothing: men's hat, women's headscarf, men's cotton shirt, boy's cotton shirt, woven belt
Food items: chocolate tablet, cacao beans, pinto beans, pinole
Illustrations
Maps
Requisition list
Ribbons
Rosary
Serape
Steatite (soapstone)
Trade beads
Water gourd
Borrowing Instructions
Trunk must be reserved a minimum of two weeks in advance and picked up at El Presidio de Santa Barbara State Historic Park located at 123 E. Canon Perdido Street in downtown Santa Barbara. It must be returned to the same location within two weeks of check-out.
Contact the Education Department of El Presidio de Santa Barbara State Historic Park: (805) 965-0093
Details
Subject:

American Indian History and Culture, Colonial History, Hispanic or Latino American History and Culture, History, Immigration, Pioneer America, Social Studies, Westward Expansion

National/State Standards:

CA Standard 3.2.4, CA Standard 3.3.3, CA Standard 4.2.3

Keywords:

California, history, Spanish missions, Chumash, trails

type:

Traveling Trunk
Last updated: February 28, 2015