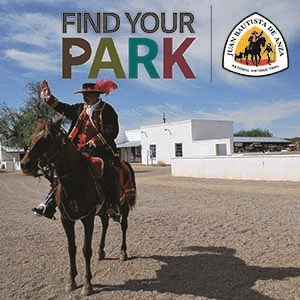 You, the Anza Trail, and the National Park Service Centennial
The National Park Service Centennial kicked off April 2015, with the launch of a new movement: Find Your Park.
From now through the end of 2016, the National Park Service and its partners are welcoming our second century with a celebration of all parks in all their forms.
"Find Your Park" recognizes that a park can be a place, a feeling, or even a state of mind.
Perhaps nothing captures the Find Your Park spirit greater than the Juan Bautista de Anza National Historic Trail!
The Anza Trail means many things to many people, and our partners include an amazing variety of park volunteers and professionals: city, state, county, and regional parks; preservation programs; historic sites; trail planners; nonprofit organizations; Federal agencies; individual volunteers; museums; historical societies; youth groups; equestrians; and many more.
Many partners. One goal.
For us, every single centennial activity points back to the same underlying goal: to connect with and create the next generation of park visitors, supporters, and advocates.
The National Park Service Centennial and FindYourPark.com are opportunities for all of us to introduce the scope and depth of experience that parks provide. After all, will our parks have a future if the next generation finds them irrelevant?
Through its partners, the Anza Trail can become a platform to the next generation for recreation, education, leadership, and engagement on the important issues of our day. We look forward to making this happen alongside you, our friends and partners.
The time is here. As Anza might say, "Everyone mount up! Vayan subiendo!"
1. Public Portal: FindYourPark.com is the primary portal for the public to engage with the National Park Service Centennial. Your park, museum, historic site, etc., may use this site to promote your programs and activities, especially those programs aimed at engaging with the next generation of park stewards. FindYourPark.com features both "Park Experiences" and "Centennial Events".
Park Experiences: This is a catalog of quintessential, evergreen activities the public can enjoy. Park Experiences answer the question, "What do I do at your park?" Examples of park experiences may be, "Walk in the footsteps of California's first colonists," or, "Discover the Lifeways of the Arizona's Native People". Users of FindYourPark.com take a quiz to indicate their interests and locations. Based on their answers, the website suggests parks and activities they might enjoy. Make sure your site is on that list!
Centennial Events: Do you have an upcoming event, either in partnership with the National Park Service or not, that engages the next generation in parks and public lands? List your event at FindYourPark.com.
2. Partner Portal: As a partner of the Anza Trail and the National Park Service, you are invited to create a free account at NextCenturyForParks.org. This site, produced by the National Park Foundation, is where you can upload Park Experiences and Centennial Events that will appear on FindYourPark.com. You can also access Find Your Park logos (which you may use for noncommercial purposes), recorded webinars, and information on licensing.
3. Anza Trail Webinar for Partners: Intro to the National Park Service Centennial
In April 2015, staff of the Anza Trail produced a 45-minute webinar for partners to learn more about the National Park Service centennial and what it can mean for them.