Park Newspaper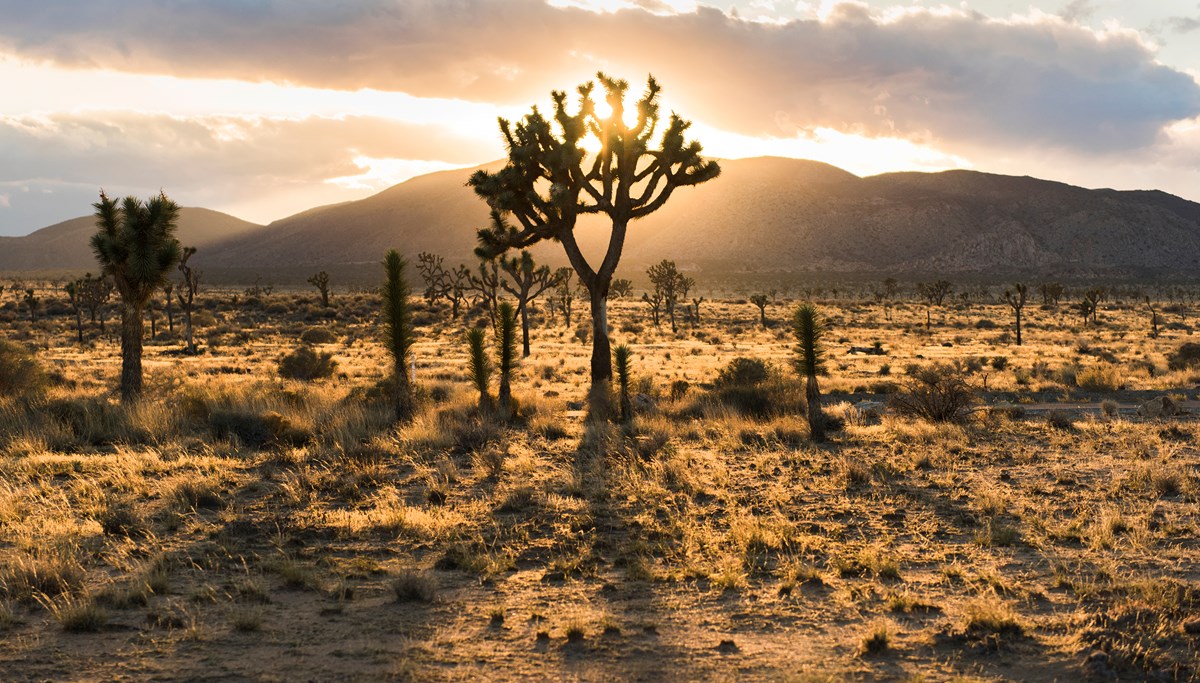 Learn and Explore
Summer Guide: June–September 2017
Welcome from Superintendent David Smith
As the National Park Service embarks on a second century of preserving your public lands, I want to invite you to enjoy your park. For the hardy folks like yourselves who make the trek to Joshua Tree in the summer, we have quite an adventure in store for you. Summertime is the quiet season at the park. Sunrise at an oasis can be magical as the sounds of bird calls fill the air. The peace and quiet of the Pinto Basin on a hot summer day can be overwhelming. As the day draws to a close, visitors are rewarded with sunsets that stretch from one side of the park to the other. The night time skies at Jumbo Rocks campground and the clarity of the Milky Way overhead are a welcome reward for the hearty souls who spend a night out under the stars.

With a little preparation, a summertime visit to a desert park can be a very special experience. Without it, it can be very risky. If you are planning an extended hike, please plan on an early start. Leave the trail before temperatures become too excessive. Bring at least one liter of water per hour, per person. Protect your skin with big shade hats, loose-fitting clothes, and ample sunscreen. Please leave pets at home and off the trails for both their safety and the safety of wildlife. Each year, park rescuers respond to hikers in distress or even worse when they are overcome by the heat. Help us help you by not becoming a victim of a heat related injury.

I look forward to seeing you as you enjoy your park.
Maps
Use the map below to find key locations and facilities in the park. For hiking, climbing, and backcountry maps, visit our
Maps page
.
Explore Responsibly
Watch wildlife respectfully Stay at least 75 feet (23 m) from wildlife. If an animal reacts to your presence by changing its behavior, you are too close. Remember, this is home for wild animals. We are visitors.
Never feed any wild animals Consuming human food is unhealthy for wildlife and may encourage aggressive behavior. Food, trash, scented products, and cooking tools must be stored securely in a vehicle or hard-sided container.
Travel responsibly with your pet Pets must be on a leash at all times. They cannot go more than 100 feet (30 m) from roads, picnic areas, and campgrounds. Pets are not allowed on hiking trails or in the backcountry. Owners must never leave a pet unattended or tied to an object. Bag and properly dispose of pet waste.
No drones or remote controlled vehicles Remote-controlled vehicles, including aircraft and rockcrawlers, are prohibited. Drones and other remotely-operated craft can disturb wildlife and disrupt the visitor experience.
Campfires Campfires are allowed only in designated fire rings or grills found in campgrounds and picnic areas. Campfires are not allowed in the backcountry. Bring your own firewood and extra water to douse your campfire. Do not use park vegetation, living or dead, for fuel.
No collecting park resources Leave everything in the park as it is for others to enjoy. Do not destroy, deface, dig, collect, or otherwise disturb any park resources including plants or animals (whether they are dead or alive), rocks, fossils, or artifacts.
Rock climbing Climbers may replace existing bolts if they are unsafe. New bolts may be placed in non-wilderness areas in accordance with the bolting checklist, available on the park website. Bolting in wilderness requires a permit.
All vehicles and bicycles must stay on roads The desert environment is more fragile than it may look. Ruts and scars left by vehicles and bicycles illegally taken off-road can last for years. Red and green sticker dirt bikes, ATVs, and UTVs are prohibited in the park.
Watch for tortoises The desert tortoise is a threatened species that often dies from being hit by cars. Drive carefully in the park: small tortoises on the road look like rocks. Tortoises may drink from puddles on the roads after rains or take shelter from the hot sun under vehicles.
Protect the trees Attaching lines to vegetation, including Joshua trees and junipers, is prohibited. Hammocks, slacklines, and other horizontal ropes must be tied to rocks and climbing bolts, and are not permitted in campgrounds.
Firearms and weapons Firearms may be possessed in accordance with California state and federal laws. However, they may not be discharged in the park. Fireworks, traps, bows, BB guns, paintball guns, smoke bombs, and slingshots are not allowed in the park.
No graffiti Over the last few years there has been an increase in graffiti and acts of intentional vandalism, including carving into rocks, trees, and historic structures within the park. This is illegal, it damages resources, and costs the park significant time and money to continually remove graffiti from rocks. Report incidents of graffiti to jotr_graffiti@nps.gov.
To learn more, visit our
Laws & Policies page
.
Upcoming Events
Showing 12 results
  Show ALL instances of recurring events

 RSS Feed
Safety
Be generous in using sunscreen, and reapply often. Wear loose-fitting, light-colored clothing, sunglasses, and a wide-brimmed hat.
Many historic mine sites exist here. Structures may be unstable and toxic chemicals are likely present. Admire, but do not enter.
Flash floods occur during summer monsoons. Avoid canyons and washes and move to higher ground. Don't drive through moving water.
GPS units and navigation apps are not reliable in the park and may direct you to unsafe roads. Refer to the park map for navigation.
Never put your hands or feet into rock crevices or onto ledges where you can't see. Use a flashlight at night.
Drive slowly to protect wildlife. When stopping to view animals or scenery use a pullout and move out of the way of traffic.
Stay hydrated; drink at least one gall (4L) of water per person, per day, and lots of salty snacks or electrolyte drinks when active.
Water is available at Oasis Visitor Center, Black Rock Campground, Cottonwood Campground, Cottonwood Visitor Center, West Entrance, & Indian Cove Ranger Station.
Emergency Phones
Indian Cove Ranger Station
Intersection Rock parking area, near Hidden Valley Campground
In an emergency, if you have cell service, dial 909-383-5651 or 911 for assistance.

Cell Phones
In most of the park there is no cell coverage. Do not count on your phone for navigation or in case of emergency.
Dogs
Activities with pets are very limited in Joshua Tree. Learn how to make the most out of your visit and keep your furry friend safe.
Enjoy Our Nature Trails
It's no secret to desert dwellers: our sunrises and sunsets are some of the prettiest around. Enjoy the view from a short nature trail.
Experience Dark Night Skies
Can't see the Milky Way from where you live? You're not alone. Joshua Tree offers outstanding stargazing.
Hiking
Joshua Tree has about 300 miles of hiking trails for you to explore. Which one is calling to you?
Kids & Youth
Joshua Tree National Park is fun for kids of all ages! Get ideas for things to do on your visit to the park or at home.
Places to Go
Find out about park destinations, from must-see spots like Skull Rock or Keys View to quieter areas like Cottonwood Spring and Black Rock.