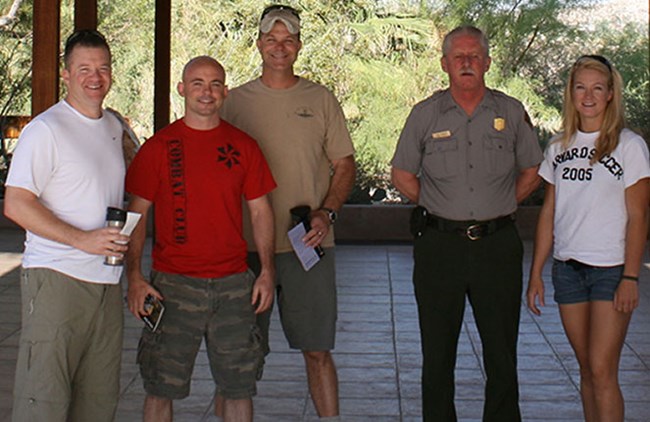 Available for the first time on Armed Forces Day, May 19, the new America the Beautiful Pass for armed service personnel prompted a friendly invasion from the local Marine Corps Air Ground Combat Center near Twentynine Palms. The park issued 266 of the new passes on the first weekend they were available.
Park staff reporting for work at the Oasis Visitor Center in Twentynine Palms found five local Marines waiting to receive their free passes at 8 am. Ranger David Denslow, a Marine veteran himself, was on hand to issue the first of the special Interagency Annual Military Passes to eligible base personnel. Master Sergeant Daniel Howe, Gunnery Sergeant Cliff Moffitt, Gunnery Sergeant Robert Langlois, and Lance Corporal Catherine Everard were among the first to receive the new passes. By the end of the day, Ranger Denslow had issued 92 of the annual military passes.
Like the regular $80 America the Beautiful Pass, the new Military Pass permits free entry into national park units for the card holder for one year from the receipt of the pass. New passes can be issued each year to service personnel who still qualify for the benefit. The new Military Pass is for service members in the Army, Navy, Air Force, Marines and Coast Guard and their dependents; as well as most service members in the National Guard and Reserves. Eligibility is determined by the Department of Defense (DOD).
The military version of the America the Beautiful National Parks and Federal Recreational Lands Pass also permits free entrance to sites managed by the U.S. Fish & Wildlife Service, the Bureau of Land Management, the Bureau of Reclamation, and the U.S. Forest Service. The pass is also available at these locations. Active duty members of the U.S. Military and their dependents can pick up their pass at park entrance stations, or at the Oasis Visitor Center (8 am to 5 pm), the Joshua Tree Visitor Center (8 am to 5 pm), and the Cottonwood Visitor Center (8 am to 4 pm). They must show a valid, current DOD Common Access Card (CAC) to obtain their pass. Dependents of service members in the Army, Navy, Air Force, Marines and Coast Guard must present a DOD ID Card-Form 1173.
More information is available at www.nps.gov/findapark/passes.htm.
To learn more about fees and federal recreation passes at Joshua Tree National Park, visit the park's website at: https://www.nps.gov/jotr/planyourvisit/feesandreservations.htm.