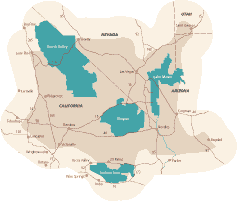 Elevations
Elevations are generally between three and six thousand feet, although Death Valley National Park includes both 11,049-foot Telescope Peak and the lowest point in the United States 282 feet below sea level at Badwater.
Temperatures
Temperatures are a function of both latitude and altitude. Although the Mojave Desert has the lowest absolute elevation and the highest maximum temperature (134°F in Death Valley), it is north of the Sonoran Desert and its average elevations are higher. As a result, its average temperatures are lower than those of the Sonoran.
Geology
The Mojave is in what some geographers call the Basin and Range Province, a landscape of alternating mountain ranges and their adjacent basins. Common rock substrates include Precambrian gneisses and granites. Slopes are often composed of metamorphic rocks, such as gneisses.
Vegetation
Mojave Desert vegetation is dominated by low, widely spaced shrubs. Vegetation in the desert's northern half closely resembles that of the Great Basin Desert, as that in the southern half does the Sonoran. However, nearly one quarter of all Mojave Desert plants are endemics. Synonymous with the Mojave Desert is the Joshua tree. Other endemics are Parry saltbush and Mojave sage. A more widely distributed plant, the creosote bush, dominates much of the land surface, often in close association with white bursage.